EC clears purchase of NYSE Euronext by INE for 8.2bn dollars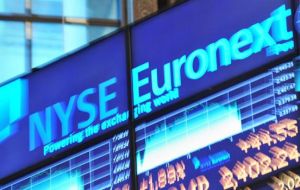 The European Commission gave unconditional approval for Intercontinental Exchange (ICE) to buy NYSE Euronext for 8.2 billion dollars a deal that strengthens ICE's presence in the lucrative derivatives trading business.
The EU regulator said on Monday its investigation into the merger found it would not raise antitrust concerns as the two exchanges are not direct competitors.
"The market investigation revealed that they do not exert a greater potential competitive threat on each other compared to other exchanges. Any anticompetitive effects can therefore be excluded," the Commission said in a statement.
The acquisition gives ICE control of London-based Liffe, Europe's second-largest derivatives market, and will help it compete with US rival CME Group.
The Commission said they especially examined the effect the merger would have on agricultural and soft commodity derivatives, as well as on US equity derivatives, but that their investigation found no competition concerns.
New EU derivatives rules, to be gradually phased in this year, will dramatically expand the demand for clearing over-the-counter contracts. The deal also boosts ICE's presence in the interest rate futures business.
The combined ICE-NYSE Euronext would be the third-largest exchange group globally, behind world No. 1 Hong Kong Exchanges and Clearing and CME Group.
The Commission also said that the minor overlaps in the two companies' foreign exchange derivatives trading and bond trading businesses did not raise concerns.
ICE announcement in March that it would cap its trading fees for Liffe soft commodities such as coffee, cocoa and sugar for five years and put product committees in place if the merger was approved, eased possible competition concerns.
Traders on NYSE Liffe's soft commodity markets had expressed concerns that the deal could lead to higher trading fees and give ICE a near monopoly in global cocoa, coffee and sugar derivatives trading.