Three out of four Brazilians fed up with poor public services support street protests
Monday, June 24th 2013 - 08:22 UTC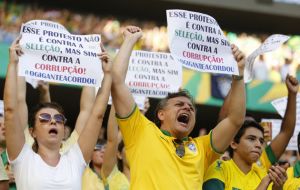 An overwhelming majority of Brazilians, 75% supports the two weeks street demonstrations demanding improved public services and complaining about the huge sums invested in stadiums for football world cups, according to a public opinion poll from Ibope and which was released in the latest edition of the weekly magazine Epoca.
However, only 6% admit to having participated and 35% of those who stayed away confessed having been tempted to join the protests, said the poll which was contracted by the National Transport Confederation.
Like wise only half of those who support the protests consider that they will effectively introduce changes, concluded the Ibope poll which interviewed 1.008 people in 79 cities between 16 and 20 June.
Furthermore protests have kept multiplying despite the fact that 71% of Brazilians declare feeling satisfied with their current lives and 43% has positive expectations about the future of Brazil. Among those supporting the protests, 69% are satisfied with their lives and 39% expect a better future.
Regarding the motives for the massive protests, 77% mentioned the deficient transport system; 47% dissatisfaction with politicians of all parties; 32% corruption; 31% poor education and health care and 18% inflation.
Asked about the main problems of Brazil: 78% mentioned healthcare; 55% law and order; 52% education; 26% drugs; 17% corruption and 11%, extended misery in the country which has a population of almost 200 million.
Street protests continued over the weekend in several major cities although less intense and despite President Dilma Rousseff's call, (on national television) for dialogue and pledges to address the complaints with a great national accord that will include state governors and cities' mayors, and is to begin being implemented this week.
Protests which have convened over 1.2 million people took off last week in Sao Paulo, triggered by the increase in public transport fares, but quickly extended to other grievances such as healthcare, public educations, corruption and the 14 billion dollars spent in preparing the country to host the 2014 World Cup.
But despite these complaints, the poll shows that Brazilians remain divided: 40% support the current Confederation Cup, 31% are against and 28% are middle of the road. And as to the 2014 world cup, 43% strongly support the event, 27% remains divided and 29% is against. This however did not impede some protests outside stadiums where the Confederation Cup is played and on inauguration day President Rousseff and FIFA Joseph Blatter were booed down.