Chile's largest energy project left on hold because of electoral debate
Tuesday, June 25th 2013 - 18:11 UTC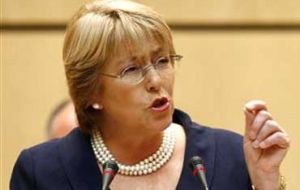 A controversial plan to power central Chile by damming Patagonian rivers is doable, the project's head said dismissing criticism from leading presidential candidate Michelle Bachelet that HidroAysen is not viable.
Chile is strapped for energy, but most Chileans oppose the proposal to tame two of the world's wildest rivers and build more than 800 kilometres of power lines linking hydroelectric plants to the grid that powers the nation's capital. Some mass marches against the project have turned violent.
"It's easy to say no to a project" HidroAysen Executive Vice President Daniel Fernandez told foreign correspondents. "But I'd like see the energy policies that candidates have planned for the years to come for Chile".
Fernandez added that the 8 billion dollars project is feasible as long as there's "nationwide agreement" that the planned transmission line must go forward. The project has been approved by the Supreme Court and is now under review by a special Cabinet committee.
Bachelet, who ended her 2006-10 presidency with high popularity ratings, is leading in polls ahead of the Nov. 17 presidential election. Her opposition to HidroAysen could kill the project if she returns to office.
"It's not viable. It shouldn't go on" Bachelet said late Sunday during a televised debate with other candidates who are competing to represent the centre-left coalition in the election.
With its energy-intensive mining industry demanding more power, Chile must triple its power capacity in just 15 years, despite having no domestic oil or natural gas, experts say. The dams together could generate 2.75 gigawatts, almost a third of central Chile's current needs, within 12 years.
Chile imports most of its fossil fuels and depends largely on hydropower for electricity. This creates a crisis when droughts drain reservoirs or far-away disputes affect fuel imports.
HidroAysen supporters say the economic benefits of the project in southern Chile justify carving access roads through an area of Andean glaciers and deep green valleys and fjords and running transmission lines through national parks and private properties all the way to the capital, Santiago.
Environmentalists say construction of the transmission lines could open remote Patagonia to much more development, and they fear the area's abundant water could attract even more dams once the lines are built.
The HidroAysen venture is 51% owned by European energy generator Endesa and 49% owned by the Chilean company Colbun SA. Endesa is a Spanish subsidiary of the Italian energy company Enel SpA.
Conservative president Sebastián Piñera ends his mandate next March and has said the government will take its time to assess claims and doubts about the whole project, the largest energy undertaking of Chile.