Mercosur suspension was rather beneficial for Paraguay, reveals President Franco
Tuesday, June 25th 2013 - 20:52 UTC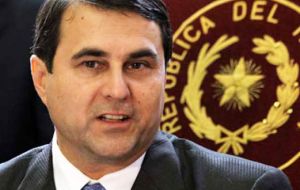 Mercosur partners' sanctions on Paraguay rather benefited than hindered the country, said President Federico Franco during a press conference in which he underlined the country had become more reliable and this was supported by a three fold increase in foreign investments.
"More than hinder, the suspensions decided a year ago by Mercosur and Unasur to a great extent benefited the country. We have record foreign investment, 304% increase over the previous government", said Franco.
A year ago the Senate decided to impeach Fernando Lugo (for incompetence), and following an almost unanimous vote, Federico Franco then Vice president was anointed president, following on what dictates the Paraguayan constitution.
But the removal of former bishop Lugo, and a supporter of the Liberation theology theory, triggered an immediate reaction from Mercosur and Unasur that described the situation as 'a congressional coup'.
It was also understood that Mercosur would admit Paraguay back following presidential elections, which took place on 21 April, but the date has now been delayed to August 15, when president elect Horacio Cartes will be officially inaugurated.
"Those responsible of a coup, but against Paraguay are Mercosur members, so they could grant full access to the group of Venezuela, to which the Paraguayan congress had been opposed for years", said Franco who added that (Argentina, Brazil and Uruguay) "finally have realized they had been wrong, they were unfair with Paraguay, ignoring and trampling on agreements and the original charter".
Likewise Franco thanked the extraordinary solidarity during those events and since then, from Canada, US, Mexico, most Central American countries, from the Caribbean Asia and above all the European Union.
"This rupture allowed us to reach a free trade agreement with Mexico which I hope to sign before I step down from office, next August", said Franco who also mentioned closer links with the Pacific Alliance.
"We urgently need a new Mercosur will equal and fair opportunities for all its members", concluded Franco.