Brazilian congress rejects controversial amendment limiting prosecutors' powers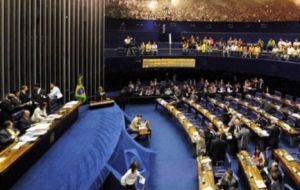 Brazil's congress late Tuesday evening rejected controversial amendment PEC 37, which would have limited the power of federal prosecutors to investigate crimes, and designated all royalties from newly discovered oil fields to education and healthcare.
Demonstrators had argued that PEC 37 could lead to more corruption for their country. It would have given the power to conduct criminal investigations exclusively to the police, removing the role of federal prosecutors from the evaluation of criminal charges.
The measure was defeated by 430 votes to nine after President of the House Eduardo Alves announced that the original vote date of July 3 had been moved up to attend to the "clamor in the streets."
Congress also voted to designate 75% of royalties from newly found oil fields to education and 25% to healthcare. It has not yet been made clear when those royalties would start being allocated.
Brazil is home to some of the largest oil finds in recent years. The country is expected to be able to produce tens of billions of barrels of crude oil over the next few decades.
The government has also been discussing its tactics for the political reform promised by President Dilma Rousseff. It said it would simplify a referendum to establish a constituent assembly, which would allow for a vote as early as September 7.
Ministers said the referendum would address "concrete questions" about such things as campaign financing and political representation.
Education Minister Aloisio Mercadante said the government wanted the political reform to have "wide public participation."