Chilean students and workers take to the streets to demand education reform
Thursday, June 27th 2013 - 05:38 UTC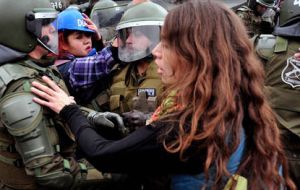 An estimated one hundred thousand people turned out Wednesday on another day of demonstrations called by students in several Chilean cities, with union members, port workers and miners joining the throng.
Several clashes between police and masked protesters were reported and the Carabineros - Chile's militarized police - said that 98 people were arrested and four officers were injured in various ways, although no mention was made of any civilian casualties.
The governor of the Santiago metropolitan area, Juan Antonio Peribonio, said at a press conference that the government had filed criminal complaints against the people responsible for the attacks on law enforcement personnel.
"We have almost 100 people under arrest, many of them ... for carrying incendiary devices," he said. Police used tear gas and water cannons to disrupt the protests.
Peribonio said that the damage resulting from the rioting amounted to millions of dollars in both the public and private sectors, noting that "bus stops, traffic lights, commercial establishments, among others" had been damaged.
Two weeks after the most recent demonstration, Santiago was the scene of the largest protest with three simultaneous marches in different parts of the capital that converged in Heroes Square, just a few blocks from the La Moneda presidential palace.
University and high school students have been mobilized since 2011 to demand free and high-quality public education, along with the elimination of the profit motive at private universities.
In contrast to other protests, however, on Wednesday the student movement received the support of the CUT (workers united centre), the professors union, the Federation of Port Workers and the CTC copper union, among other labour organizations.
Protestors also want to change the Chilean tax system to make the rich pay more in a country that despite the copper bonanza is also plagued by vast income inequality and a costly education system that many say is unfair.
"This has to do with discontent that is deeply rooted in many sectors of society. But we're the first ones to sympathize with people who are innocent victims of this violence, because there's no way to justify these types of clashes," Andres Fielbaum, president of the University of Chile student federation told state television. After two years of student marches that often paralyzed Chile's major cities and stoked expectations of change, students say they have seen few real benefits and the dispute over education reform remains a key electoral issue ahead of the Nov. 17 presidential election.