Protests continue in Brazil while Congress is working overtime to legislate on grievances
Thursday, June 27th 2013 - 05:42 UTC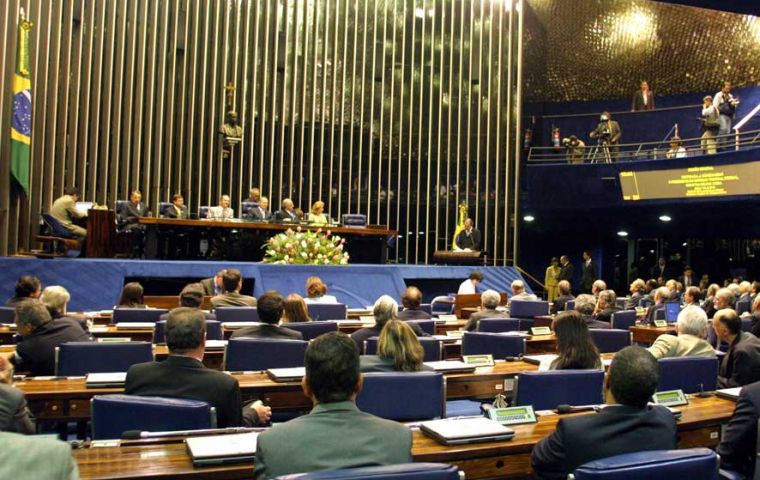 As protests again turned violent near the stadium where Brazil's national team was playing arch-rival Uruguay, legislators kept up a lawmaking spurt aimed at quelling the biggest street demonstrations in two decades by increasing penalties for corruption.

Images on Globo TV Wednesday showed dark smoke from a car dealership set ablaze mingling with light-gray tear gas as police clashed with protesters outside the Mineirao stadium in Belo Horizonte, Brazil's third-largest urban area, marring an initially peaceful march Globo estimated at 50,000 strong. At least 4,000 gathered outside federal capital Brasilia.

Demonstrations that began three weeks ago against an increase in bus fares have since given voice to discontent over grievances such as government corruption. Senate leader Renan Calheiros, after suspending a recess to tackle a legislative agenda put forth by President Dilma Rousseff, said yesterday that the upper house of Congress passed a bill to toughen the punishment for government corruption, putting the crime in the same category as rape and murder.

The lower house on June 25 passed a bill earmarking oil royalties for education and health, two other rallying cries for protesters feeling pinched by rising consumer prices.

The Senate's bill making corruption a so-called heinous crime, which now goes to the lower house, would double the jail term for those convicted to a minimum of four years.

Other proposals spawned by the protests that are being debated include a bill to eliminate bus fares for students and a constitutional amendment ending the use of secret ballots in disciplinary votes against fellow lawmakers.

Officials including Finance Minister Guido Mantega and Supreme Court Chief Justice Joaquim Barbosa have supported the legitimacy of the protesters' demands.

In Belo Horizonte, the capital of Minas Gerais state, authorities declared a public holiday and deployed 5,000 extra security personnel ahead of yesterday's game. The smell of tear gas briefly wafted into the stadium during the match, where Brazil scored a goal in the final minutes to beat Uruguay 2-1. Clashes continued as night fell, with protesters wearing their shirts as masks and setting fire to police barricades.

Police used helicopters to scare off protesters in Belo Horizonte as well as tear gas and rubber bullets. Some protesters shot fireworks at police as others threw stones.