Bachelet and Longueira will dispute the Chilean presidency next November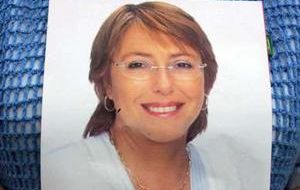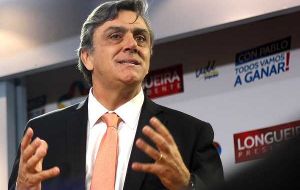 Chilean president Sebastián Piñera congratulated former president Michelle Bachelet and ex Economy minister Pablo Longeuira who emerged as winners in the two main coalition' primaries held last Sunday, the first time such an event takes place in the country.
Speaking from the presidential palace La Moneda Piñera also congratulated the high turnout of voters, almost three million voters, which is double the original estimate from analysts and lawmakers when legislation was debated. The president had words of praise for the losing candidates and their contribution to the "enrichment process of Chilean democracy".
Following the vote count by the country's Electoral Board Service published in their web, Socialist Ms Bachelet collected 2.981.688 votes or 73.11% of votes cast in the primary of the opposition coalition, New Majority. Runner up was a former Economy minister, Andrés Velasco with 12.96% of the votes. Two other candidates, Claudio Orrego from the Christina Democrats and Radical party Jose Antonio Gomez took the rest, 8.86% and 5.05%, respectively.
In the ruling coalition the competition was tight and Pablo Longueira from the Independent Democratic Union, UDI beat Andres Allamand from National Renovation, (RN) by three percentage points. Longueira who belongs to the junior member of the current coalition UDI picked up 51.34% of the vote, (409.886) while Allamand, supported by Piñera's RN managed 48.65% (388.367). Turnout for the coalition was far below that from the opposition: 798.253 against 2.120.216 votes.
This is the first time that Chile holds simultaneous primary elections to vote for presidential candidates in the two main blocks (centre-left and centre-right) that will be competing in the November 17 election, and succeed conservative Piñera next March.
Following the official announcement of the results the losing candidates turned up at the parties' headquarters to congratulate Bachelet and Longueira and communicate their availability for the coming presidential campaign.
Ms Bachelet, a paediatrician, was the first woman president in Chile and ruled from 2006 to 2010. She stepped down as the most popular elected leader in recent times. Before that she was minister of Healthcare and Defence and until recently was head of the UN Women's Office. Bachelet belongs to the Socialist party. During the Pinochet years, her father an Air Force brigadier died of a heart attack while tortured and the family, after a short period under arrest left in exile to Eastern Germany
Juan Pablo Longueira is a right-wing politician and industrial civil engineer who has served as Minister of Economy, Development and Tourism since 2011 when the conservative coalition of President Piñera took office. He previously served as a Senator and was a member of the Lower House from 1990 until 2006. As a technocrat he was a supporter of Pinochet economic, education and social welfare reforms.