Falklands' on-shore storage for construction of oil flow lines to develop Sea Lion project
Friday, July 5th 2013 - 06:58 UTC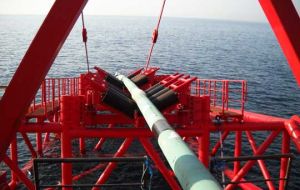 Bundled or reeled production flow lines could be constructed on-shore the Falkland Islands for Premier Oil, the UK independent company that is developing the Falklands Sea Lion project and expected to demand an investment of 5 billion dollars with first oil expected sometime in 2017.
According to the latest edition from the Penguin News, Ken Humphrey of Premier Oil said this week that the work would require a site (approx 220.000 square meters) with access to the sea and about 6.5 kilometres of fairly flat land for the large steel pipes to be constructed on. A decision is to be made early next year.
Several sites had been sourced and consequently whittled down to two and land owners had been approached said Mr Humphrey who added that the concept paper had been provided to the Falklands' government for the idea to be explored in principle.
Falklands onshore was being considered because it was problematic to tow the large pipes for more than a thousand miles, said Mr Humphrey. The pipes which could be up to 6.5 kilometres long connect the floating production, storage and offloading (FPSO) vessel to the Sea Lion reservoir.
Mr. Humphrey described the Falklands project as more challenging than other developments because it was the first to take place and therefore the regulatory and approval regime was evolving and also because of the remoteness and lack of infrastructure.
It is currently estimated that the Sea Lion field has recoverable oil resources of between 300 and 350 million barrels. Mr Humphrey said that 2013 will see work continue on technical studies and engineering and logistical support and infrastructure options.
It is expected that in 2014 a field development plan will be presented. With first oil expected in 2017, Mr Humphrey said that "the development of the Sea Lion field by Premier Oil would be a 5 billion dollars project with thousands of people around the world involved".

Last October the Falkland Islands government approved changes to Rockhopper's production licence interests to permit the assignment of 60% of Rockhopper's licenses to Premier Oil and the approval of Premier Oil to become the operator of the licenses.
Premier said it would partner Rockhopper paying an initial 231 million dollars in cash as well as providing around 770 million to help build infrastructure for the development of the Sea Lion field 2010 oil discovery in the north Falkland basin. (PN and MP).-