State Department confirms dialogue with Brazil on the alleged intelligence activity
Tuesday, July 9th 2013 - 06:23 UTC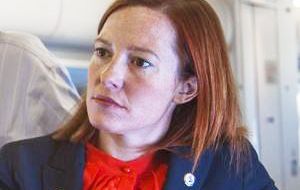 The US State Department spokesperson during the daily briefing declined to comment on the alleged intelligence activity in Brazil but admitted dialogue with the Brazilians through normal diplomatic channels, but those conversations 'of course we would keep private'.
"As a matter of policy, we have been clear that the United States does gather foreign intelligence of the type gathered by all nations. I can tell you that we have spoken with Brazilian officials regarding these allegations," said spokeswoman Jen Psaki.
Asked about the reaction of Brazilian officials to the allegations, among them Foreign minister Antonio Patriota and given the official visit in coming months of President Dilma Roussseff to the US, Ms Psaki said that "we work with Brazil on a wide range of issues and we are hopeful that we can continue to discuss and resolve through normal diplomatic conversations".
Ms Psaki admitted she was not aware who the officials speaking to Brazil were or if Secretary of State John Kerry had talked to Foreign minister Antonio Patriota. Nevertheless she insisted "we're in close contact and we'll continue those conversations".