Belonging to Mercosur and the Pacific Alliance is 'not incompatible' says Uruguay
Friday, July 12th 2013 - 20:17 UTC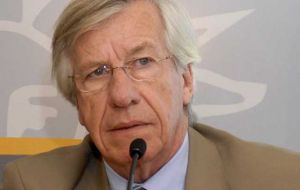 Uruguay Vice-president Danilo Astori said that belonging to Mercosur and the Alliance of the Pacific is 'not incompatible' and called on the 'powerful members' of Mercosur to support an agreement with the Pacific Alliance of which Uruguay and Paraguay are already observers.
"There should be a willingness to accord with other experiences, with which there should not be incompatibility, but rather elaborate a web, intense and deep of possibilities for our enterprises", said Astori during the Mercosur Business Forum, which took place in Montevideo in the framework of the Mercosur summit.
"We are asking for support so that all country members of Mercosur can have the chance to reach agreements with other blocks, that are growing such is the case of the Pacific Alliance (Chile, Peru, Colombia and Mexico)", said Astori addressing the forum.
Astori said Uruguay already has bilateral agreements with all Alliance members but "it's not the same having accords with each of them that one with the whole block".
He added that Mercosur must advance in its integration and "lower the levels of protection regarding other countries".
The Uruguayan Vice-president who last May attended the Alliance summit in Cali, Colombia said at the time that Uruguay was working to become "a full member of the group as soon as it was possible".
This he emphasized would facilitate access to Asia which for Uruguay is 'strategic' not only because China has become the country's second trading partner only behind neighbouring Brazil.
According to Eclac (UN Economic Commission for Latam and the Caribbean) trade among the Alliance countries in 2012 increased 1.3%, while among Mercosur members it was down 9.4%.
Astori's position was supported by most businesspeople from Argentina, Brazil and Uruguay that attended the forum, arguing that the link between Mercosur and the Pacific Alliance is 'inexorable' and could represent great benefits for both blocks.
"At some point, some kind of territorial union will take place between the Pacific Alliance and Mercosur which is going to allow us access to two oceans", said Carlos Restaino, Director of the Argentine Chamber of Commerce.
"It's impossible not to imagine this happening" he added.
Sooner than later the integration of the two blocks is inevitable, and so is the formation of a great Latinamerican alliance, according to Juan Angel Ciolli from the Latam Association of Micro, Small and Medium sized enterprises.
However, Ciolli also underlined that the Alliance must also understand that Mercosur has 'greater ambitious' pretensions than only a free trade space.