Where's my pizza complain Argentines short of tomato and flour?
Sunday, July 14th 2013 - 23:46 UTC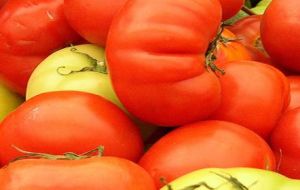 Argentines have been asked to eat fewer tomatoes. The government called on consumers on Friday to try to stay away from the beloved food for at least two months because of an expected shortage caused by seasonal reasons including crop rotations.
Officials say all other fruits and vegetables are available and at affordable prices, but Argentines feel frustrated because the tomato is a must in many of their dishes and is used in pizza toppings, sauces and salads. A stake with a salad of tomato and lettuce is staple dish in Argentina.
Argentine dishes, including pizza and pasta are strongly influenced by Italian cuisine and feature tomatoes. Officials have asked for an effort until September when a new harvest of the crop is expected.
"For seasonal reasons, involving crop rotations in the farms, the Central Market of Buenos Aires informs the public about a possible shortage of tomatoes," read a statement from the government's Office of Domestic Commerce.
"For this reason, and for a period of approximately sixty days, we suggest the use of alternative products." However, the government added that all other staple fruit and vegetables were available in "excellent" supply and prices.
The news comes as a further challenge to Argentine cooks and housewives that are still suffering from a flour shortage and higher bread prices that were triggered by one of the worst wheat harvests in Argentina's history and farmers' refusal to sell their crops at bottom rock prices in effect.
Even when the crop was poor, official figures indicate it is more than enough for the domestic market, since exports have been closed. But given the taxes and levies enforced on grains, farmers will be receiving a dollar at approximately 3.50 Pesos, when the official rate is 5.40 Pesos and in the parallel market, in the range of 8 Pesos.