First convictions from the Costa Concordia shipwreck that killed 32 people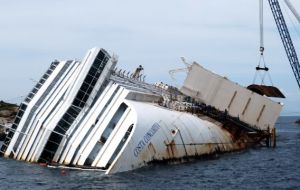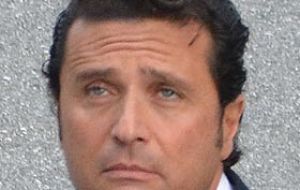 A court in Italy has convicted five people of manslaughter over the Costa Concordia shipwreck off Giglio Island which killed 32 people in January 2012. Two officers, the helmsman, the head of cabin service and the head of the crisis team were given up to two years and 10 months in jail for multiple manslaughter, negligence and shipwreck.
However, only two may serve any prison time under the plea bargain accepted by the judge. The convictions, the first in the case, came after Judge Pietro Molino accepted their plea bargain Saturday morning.
The five were originally co-defendants with the cruise ship's captain, Francesco Schettino who is being tried separately on charges of multiple manslaughter in the wreck and abandoning ship.
The Costa Concordia, a luxury liner carrying 3,200 passengers and 1,000 crew members, struck rocks off the Italian island of Giglio on January 13, 2012. Thirty two people were killed and another 150 were injured in the evacuation of the ship -- 65 of them seriously. The injuries include partial paralysis, amputations and, in one case, blindness.
Under the deal, Roberto Ferrarini, Costa Cruises' emergency manager in Genova, was sentenced to two years and 10 months in prison and Manrico Giampedroni, hotel director of the Costa Concordia, was given two years and six months.
Ferrarini spoke on the phone and by radio to Schettino the night of the crash between impact and evacuation, and Giampedroni was in communication with Ferrarini on Schettino's behalf that night.
Schettino's first mate Ciro Ambrosio, who was the officer on the bridge and in command of the ship when it went off course, was handed a sentence of one year and 11 months; third officer Silvia Coronica, who was second in command to Ambrosio at the time, received 18 months; and helmsman Jacob Rusli Bin was sentenced to 20 months.
Those three were also convicted of causing a shipwreck, or maritime disaster.
The next hearing in Schettino's case is scheduled for September 23. Schettino faces three criminal charges: involuntary manslaughter for the 32 deaths, causing a maritime disaster and causing personal injury to 150 people who were badly hurt in the accident.