OAS chief Inzulza in Uruguay to present report on drug problem in the Americas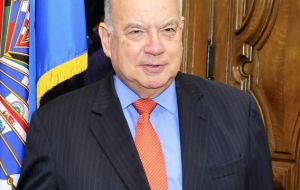 The Organization of American States Secretary General José Miguel Insulza begins Monday a two day visit to Uruguay for the formal presentation of the "Report on the Drug Problem in the Americas" which has the support of several Latinamerican countries and former leaders of the region who have proposed a completely new approach to the drugs challenge.
Insulza will be meeting President José Mujica, and will personally present the OAS report, which is not entirely supported by the United States, which believes it could lead to the liberalization of certain 'soft' drugs.
Uruguay Foreign minister Luis Almagro will also be presented with a copy of the report.
During the two-day visit, Insulza is also scheduled to meet with other Uruguayan authorities, including the Secretary General of the National Drug Council, Julio Calzada, and Vice President Danilo Astori.
The Uruguayan parliament is currently considering a bill that would authorize the consumption and trading of marihuana under certain circumstance, which is considered a pilot project that if successful could be tried in other countries of the region.
Last week the Minister for the Presidency of Uruguay, Diego Cánepa met with Insulza at the headquarters of the OAS in Washington, DC, precisely to speak about the report on the drug problem of the Americas and in anticipation of the OAS chief visit to Uruguay this Monday.
Canepa was also in New York where he met with Mayor Michael Bloomberg to thank him for the support from the city on the ongoing litigation with Philip Morris on the tobacco issue.
Uruguay has strict rules banning smoking in public places, one of the first countries to enforce such legislation, but Philip Morris has appealed the fact that the no-smoke tobacco adds cover almost the whole box.