Santos and Maduro agree to open a new chapter of neighbourly relations
Tuesday, July 23rd 2013 - 08:15 UTC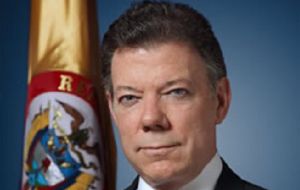 Venezuelan President Nicolas Maduro and Colombian counterpart Juan Manuel Santos on Monday agreed to turn the page on a diplomatic dispute triggered when Santos met with Venezuela's main opposition leader in May.
Maduro in May had slammed Santos for receiving Henrique Capriles, who narrowly lost Venezuela's presidential election in April, saying the meeting constituted meddling in the affairs of the OPEC nation.
"There are things that we do not agree on ... but we have the immense obligation and responsibility to work together - and that's what we're going to do," Santos told reporters after the meeting in Puerto Ayacucho, the capital of Venezuela's Amazonas State that lies across the Orinoco River from Colombia.
Maduro vowed to contribute to Colombia's peace negotiations with Marxist oriented drug-fuelled FARC rebels that are meant to end Latin America's biggest and longest-running guerrilla insurgency.
"You can count on our best efforts to ensure peace can be achieved," he said.
Capriles in May met Santos following his 1.5 percentage point election defeat to press his case that Maduro's victory was illegitimate due to voting-day irregularities.
Maduro, whose victory was ratified by elections authorities, described the meeting as a "betrayal" and a "stab in the back" by the Colombian leader.
The spat and subsequent make-up is another cycle in a volatile relationship between the two neighbouring nations that for years saw relations and commercial ties frayed by ideological differences and volleys of insults between heads of state