Uruguay's citrus production down 30% because of severe weather a year ago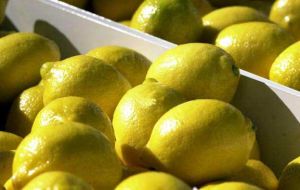 Uruguay's major citrus crops estimates place production at almost a third lower than the previous year, the Ministry of Livestock, Agriculture and Fishing (MGAP) reported.
Overall production in 2013 for oranges, mandarins, lemons and grapefruit is expected to drop 88,000 tons (MT) to 243,000 MT.
Lemons are expected to experience the greatest percentage drop at 33%, falling to 31,245 MT. Grapefruit production should drop by the lowest percentage, falling 7% to 2,167 MT.
Mandarins and oranges are expected to decrease to 86,738 MT (-30%) and 122,408 (-22%), respectively.
MGAP compared the estimates to the 2009 season when production dropped due to drought and hail damage.
Decline this year is attributed to severe weather, preceded by freezes in June 2012 that left plants vulnerable. The total number of plants is expected to drop about 3% to 7.2 million.
The data from MGAP'S report was collected through on the field interviews with producers. Final numbers for the year's crop will be released in November.