Paraguay greets Insulza and thanks OAS support during June 2012 political events
Wednesday, July 24th 2013 - 07:25 UTC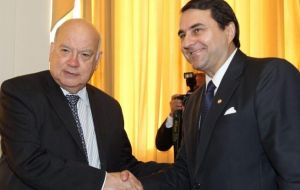 The Organization of American States (OAS) Secretary General, José Miguel Insulza, met with Paraguayan president Federico Franco at the start of his two-day official visit to Asunción.
Insulza presented to President Franco the Report on the Drug Problem in the Americas, prepared by the OAS under his leadership following a mandate of the Sixth Summit of the Americas in 2012.
The two leaders agreed on the importance of the document as a starting point for finding solutions to a problem that affects the whole Hemisphere, and emphasized that the Report has already fulfilled one of its key objectives by having begun a hemispheric political debate on the issue.
At the meeting Insulza and Franco also discussed current events in the region and in Paraguay in particular. The President highlighted to Secretary General Insulza his country's positive economic data, the fastest growing economy in the region this year, but also highlighted the respect shown by OAS towards the country's domestic decisions, which was not the case with other regional organizations.
Paraguay was suspended from Mercosur and Unasur for over a year allegedly because of the removal, according to the Paraguayan constitution and with the political impeachment instrument, of former president Fernando Lugo.
OAS refused to follow the same path and recognized the administration of President Federico Franco and sent observers to monitor and follow the 15 April presidential election.
President Franco expressed his country's gratitude to the Secretary General and OAS for the strong support received during very difficult moments.
The meeting was also attended by Foreign Minister José Félix Fernández Estigarribia; the Permanent Representative of Paraguay before OAS and current Chair of the Permanent Council, Martín Sannemann, plus the OAS representatives in Paraguay and Uruguay, Diego Paz and John Biehl, respectively.
The meeting was held at the Presidential House in Asunción and coincided with the birthday of President Franco. Before the meeting with the President, the Secretary General of the OAS held a meeting with the Foreign Minister Fernández Estigarribia.
Insulza arrived from Uruguay where he made a similar presentation of the report on the drugs problem in the Americas.