Brazil current account deficit narrows in June, but will be above 3% of GDP in 2013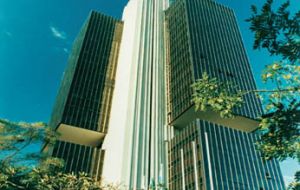 Brazil's current account deficit narrowed in June from a year ago, central bank data showed on Tuesday, although it may still be unable to cover that gap in 2013 with direct investment from abroad. The country posted a current account gap of 3.6 billion dollars in June.
In June 2012, Brazil had a deficit of 4.4 billion. The current account is a country's broadest measure of foreign transactions encompassing trade, profit remittances, interest payments and other items.
So far this year, the country has accumulated a current account gap of 43.478 billion, well above the 25.244 billion posted in the same period a year ago.
That widening gap also helps explain the Brazilian currency's sharp depreciation over the last few months, which was exacerbated by expectations of a scale back in US monetary stimulus that triggered an exodus of capital from emerging-market nations.
Although foreign direct investment in the country jumped to 7.17 billion in June from 3.88 billion in May, it will still fall short of what is needed to cover the current account gap this year. In the first six months of the 2013, the country received 30 billion in FDI.
Last month, the central bank revised up its current account deficit estimate for the year to 75 billion, acknowledging for the first time in years that FDI is unlikely to cover that gap.
The bank expects FDI to reach 65 billion dollars in 2013.
Still, the central bank has said other dollar inflows will easily help cover the remaining deficit.
In the 12 months through June, the current account deficit was equivalent to 3.17% of GDP, down from 3.2% in May.
A fall in the price of some Brazilian exports plus a hefty bill for imported fuel has led Brazil to accumulate a trade deficit of nearly 3 billion this year.