For the first time since 2000, Brazil is expected to post a trade deficit
Thursday, July 25th 2013 - 05:43 UTC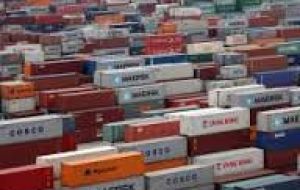 Brazil is this year, for the first time since 2000, is expected to post a balance of trade deficit which, according to the Brazilian Foreign Trade Association (Aeb), and should be in the range of 2 billion dollars.
According to a statement issued on the Aeb website the new figure for the trade deficit is a review of figures published in December 2012 which points to a surplus of 16.6bn dollars.
The deficit, according to Aeb, which is a private non-profit body that represents companies exporting and importing goods and services, is the result of a 5% drop in exports to 230.5 billion and a rise of 4.2% in imports to 232.5 billion.
The drop in prices of raw materials and in foreign sales of Brazilian oil are the reason for the drop in exports according to the association, which added that imports were increasing due to a more favourable exchange rate and a rise in the purchase of oil and its derivatives.
In the first half of the year Brazil posted a trade deficit of 3 billion dollars, which was the worst result for 18 years.
In 2012 Brazil posted a trade surplus of 19.43 billion, which was the lowest surplus for 10 years, with exports of 242.58 billion and imports of 223.14 billion dollars.