France will side with Argentina before the US Supreme Court says Telam
Saturday, July 27th 2013 - 04:51 UTC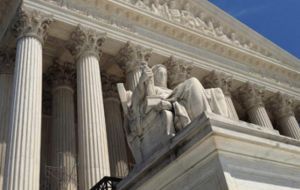 France has asked the US Supreme Court to review Argentina's case in its decade-old legal battle with holdout creditors, Argentina's state news agency Telam said on Friday, citing unnamed legal sources familiar with the situation.
No comment was immediately available from the Argentine government. Argentina is in a legal fight against holders of defaulted bonds who chose not to go along with restructurings in 2005 and 2010, in which 93% of holders accepted returns as low as 25 cents on the dollar.
The holdout creditors are demanding 100 cents on the dollar in a case that may end up before the US Supreme Court, if the court accepts Argentina's petition to hear it.
"The French government has filed an amicus brief in support of Argentina's petition before the Supreme Court," state news agency Telam said.
The Supreme Court is on its summer break and won't decide whether to hear the Argentina case until the fall.
Some governments and the International Monetary Fund have voiced worry that a ruling against Argentina would make it more difficult for other countries to restructure their debt.
Argentina is asking the Supreme Court to void an October 2012 ruling by the 2nd U.S. Circuit Court of Appeals in New York, which found it had violated a clause in its bond documents requiring it to treat all creditors equally.
The appeals court has not yet ruled on whether to require Argentina to pay the holdouts. A ruling in their favour would put Argentina on the hook for more than 1.3 billion in payments and risk of another default.
Argentina says it will not give the hedge fund holdouts - characterized as "vultures" by the President Cristina Fernandez for picking over the bones of the country's 2002 sovereign default - better terms than those offered in the two restructurings.
An adverse court decision would raise the threat of another default because it might complicate payment of restructured bonds if the government continues to refuse to pay the holdouts.
IMF Managing Director Christine Lagarde had planned to recommend that the IMF board approve a friend-of-court brief in support of the case by the end of this week. Argentine bond prices dropped on Wednesday when the Fund announced it would not make the filing