Gibraltar blasts Spain over incident and calls for upgrade or Royal Navy engagement rules
Monday, July 29th 2013 - 05:57 UTC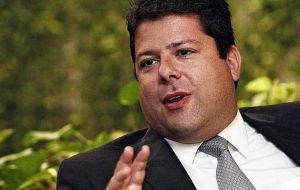 Gibraltar Chief Minister Fabian Picardo Governor Sir Adrian Johns said Spain had no right to interfere with activities in British Gibraltar territorial waters and called for an upgrade of Royal Navy engagement rules.
The statements follow last Thursday's incident when Guardia Civil and Spanish fishing vessels tried to interrupt the dumping of concrete blocks in Gibraltar waters to build an artificial reef.
Such an artificial reef should definitively put an end to Spanish vessels incursions into Gibraltar waters, a motive of constant disputes in recent times between Gibraltar and London, with Madrid.
"The waters off the runway are as much a part of Gibraltar as is Main Street,' Mr Picardo said, adding "I emphasise again that a fully licensed Government contractor cannot be prevented from going about its perfectly legal work in our sovereign waters".
The message was echoed by the Governor, Sir Adrian Johns.
"The fact is that the tug and barge concerned have been contracted by HM Government of Gibraltar to carry out a perfectly legal and peaceful operation inside British sovereign waters in support of marine conservation," Sir Adrian said.
The Governor noted that this operation was "…completely within the constitutional responsibility and competence of HM Government of Gibraltar and no-one else's."
"Any issues arising out of this should be handled through the normal diplomatic channels," he added. "It is completely unacceptable to pursue the matter in any other way either on the waters or elsewhere."
Chief Minister Picardo also praised "the excellent job" carried out by police and navy crews but once again called on the British Government to strengthen its naval presence and its rules of engagement.
He said the incident had demonstrated the value of the larger vessels the Gibraltar Government had purchased for the Royal Gibraltar Police.
"Whilst I would like to see similar upgrades to the Royal Navy's assets here on the Rock, it would also be useful for the Navy to review its rules of engagement," he said.
"No-one likes to see the Navy ignored and disrespected by foreign state vessels as has been the case on so many occasions. It does nothing for the international reputation of the Navy or of Her Majesty's Armed Forces generally", said Picardo.