Norway media question why Oslo is not collaborating with South Georgia rat eradication campaign
Monday, July 29th 2013 - 22:25 UTC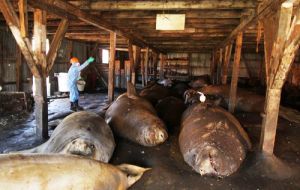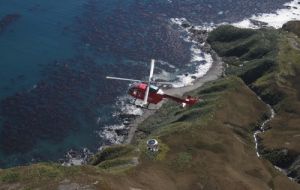 An ambitious multi-national move to reduce the rat population on the island of South Georgia has yielded results despite no Norwegian government funding underlines an Oslo media recalling the close relations of the Scandinavian country with the extreme south island and sixty years of whaling.
NRK (Norway government Radio & Television) reports Britain claimed sovereignty over SG it in 1775, the same year Royal Navy Captain James Cook circumnavigated the island and Britain annexed both South Georgia and the South Sandwich Islands (SGSSI) in 1908.
Norwegian Antarctic explorer Carl Anton Larsen (1865-1924) set up both the first land-based whaling station and permanent habitation at Grytviken in 1904 – there is a heritage museum at Grytviken and the centenary of the opening of the Norwegian Whalers' Church there will be celebrated in December this year.
According to the NRK report companies from Tønsberg, Sandefjord and Larvik also established their own onshore whaling stations on South Georgia.
This year's huge operation mounted by the South Georgia Heritage Trust (SGHT) was to further exterminate the island's population of introduced Norway brown rat following last year's successful first-stage eradication on one section of the island.
These rats have been allowed to reproduce on South Georgia for many years living off young birds and eggs, something which has contributed to too many species being classified as endangered.
At an estimated cost of about 11.8 million dollars, helicopters were used to distribute some 200 tons of bait pellets across 580 square kilometers of the island (some 70% of the infested area). This latest 'Team Rat' operation involved four helicopters and 600 flying hours. Hand baiting around the four huge abandoned whaling stations at Husvik, Stromness, Leith and Prince Olav took place too.
The main evaluation for the multi-year project will be conducted in 2014. Team Rat hopes to be able to collect the £ 2 million needed to spread poison across the 300 square kilometers that remain for 2015.
"Once all of the rats and mice are removed from South Georgia, scientists estimate a 100% increase in the island's bird population" SGHT staff writes. And this despite the fact that Norway's Ministry of the Environment officials say they are aware of the problems Norwegian whaling and sealing have caused over time, NRK reported.
"Norway is participating in several projects on the island. Among other things, we are working to eradicate the reindeer, which were taken along as provisions for whalers. We also participated in clean-up work after the whaling activity," Deputy Environment Minister Henriette Westhrin told NRK broadcaster.
"This [ridding the island of South Georgia of vermin] is the joint responsibility, but mainly a British one since it is a British area. We have engaged in individual projects, meaning there are other projects that have been prioritized," she added.
A Norwegian Ministry of the Environment press spokesperson told Oslo's The Foreigner that "South Georgia is not within the geographical area of the Antarctic Treaty. The Norwegian authorities therefore did not see it as appropriate to support this project economically".
South Georgia, a long, narrow, mountainous and glaciated island, is located 2,150 kilometers away from Tierra del Fuego, the tip of South America, and 1,390 kilometers east of the Falkland Islands, which has inhabitants of Norwegian descent points out the NRK report.