"Shake the church, go spread the word of God", Francis tells 3 million at closing mass
Monday, July 29th 2013 - 03:10 UTC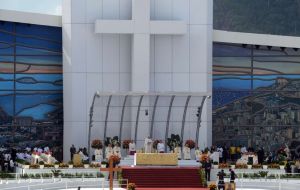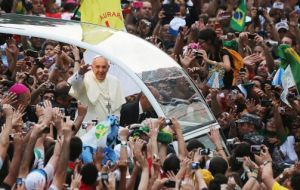 Pope Francis on the last day of his week long pilgrimage to Brazil urged Catholics to reject selfishness, hatred and intolerance to help build a new world.
At the Sunday sermon and speaking from an elaborate stage on Rio's famed Copacabana beach to a multitude of three million, the pontiff told young people from nearly 180 countries who had come for the church's biennial World Youth Day, to fearlessly go and spread the word of God.
"Follow these words: Serve without fear," Francis said, on his first foreign trip since becoming pope in March. "Bringing the Gospel is bringing God's power to rip out and raze evil and violence, to destroy and demolish the barriers of selfishness, intolerance and hatred to build a new world."
Conveyed in Catholic imagery, it was an appeal for young people energized by the gathering to draw closer to a church that religious analysts say has grown out of touch and lost followers by the millions in recent years, a trend readily apparent in Brazil, a country where Catholicism once dominated undisputedly.
"Jesus is calling you to be a disciple with a mission!" the pope said. "There are no borders, no limits: He sends us to everyone."
In his final homily, Francis urged the young to reach beyond their comfort zones to help rebuild a church that has suffered debilitating decline in Latin America, a region once dominated almost exclusively by Catholicism.
He allowed numerous elements into the Mass from the Catholic charismatic movement, a theologically conservative but boisterous strain that many see as the best answer to the down-to-earth evangelicals who have lured millions of worshipers away from the Catholic Church. Those elements included musical selections and the choice of certain charismatic priests to deliver greetings
But undoubtedly the pope's emotional and seemingly spontaneous pronouncements helped attract hundreds of thousands of young people to Copacabana's 2.5 miles of crescent-shaped beach day after day.
The beach, which normally attracts sunbathers, bikini-clad beauties and volleyball players, was outfitted with giant screens so that no matter how far the faithful were from Francis, they could see Sunday's service. And along the white sand, young pilgrims from across Latin America and as far away as Africa pitched tents and slept in sleeping bags, in an outing that was part jamboree, part religious revival.
The 3 million who attended Sunday's service dwarfed the 1 million who attended Mass at the last World Youth Day in Madrid. The Associated Press reported that only Pope John Paul II's 1995 Mass in Manila, which attracted five million people, was larger.
Among those attending were Brazilian President Dilma Rousseff, Argentine President Cristina Fernández, Bolivian president Evo Morales and Uruguay's Vice president Danilo Astori and other regional leaders.
The throng of people, many in the green and yellow Brazilian colours, gave Francis the kind of ecstatic welcome that he has received all through his trip to his home continent.
They shouted and sang as he was driven through the crowd in an open-sided pope-mobile, stopping often to kiss babies offered to him by their mothers on the shoreline most famous for its bars and nightclubs and hedonist spirit.
His message to the young people in Rio for week-long World Youth Day festivities, sometimes called "the Church's Woodstock," was serious: they should not make their time in Rio a one-off experience.
In his sermon during the Mass at the huge white stage at the beach's northern tip, he said they should return to their home countries energized and ready to work for social change.
Later before flying back to Rome, the Pope thanked some of the 60,000 volunteers who organized the youth festival. Again he called on the thousands of young people packed into a vast hall to "be revolutionaries" and "swim against the tide". He also announced that the next World Youth Day will be in Krakow, Poland, in 2016.
Brazilian Vice-president Michel Temer who walked with the Pope to the waiting aircraft said: "You came to see the young people but you ended up enchanting all Brazilians".
He added that the country's door would be permanently open to the pontiff and called on him to "just enter without knocking, because there will always be a place for Your Holiness in Brazilians' hearts."