Mujica in veiled message tells Paraguay to return to Mercosur and remember it's a landlocked country
Tuesday, July 30th 2013 - 03:54 UTC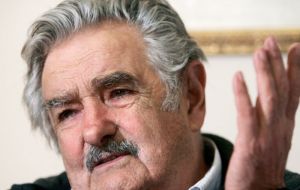 Uruguayan president Jose Mujica was ironic about the conditions Paraguayan president elect Horacio Cartes demanded for his country's return to Mercosur, but also in a veiled message called for 'intelligence and pragmatism' recalling that Paraguay is a landlocked country.
Speaking with the official Cuban news agency during his recent visit to Havana, Mujica said he was prepared "to present president-elect Cartes with all the Mercosur rotating presidencies which correspond to Uruguay" if that was what he wanted.
Cartes has insisted that before returning to Mercosur, suspended Paraguay demands respect for his country's dignity, the rule of the law, respect for Mercosur institutions and in a welcome gesture, 'the presidency of Mercosur' which was finally handed for the next six months to the latest full incorporation to the group, Venezuela.
"I'm willing to sign a document to Paraguay handing over all the Mercosur presidencies which could fall on Uruguay" said Mujica ironically.
But he also added that it was in Paraguay's interest to return to Mercosur, particularly from 15 August when Cartes will be officially inaugurated.
And in what could be interpreted as a veiled, but strong message, Mujica emphasized that "no other country of all those that make up Mercosur is more interested in returning to the group since Paraguay has a Mediterranean position".
Mujica then called for 'intelligence and pragmatism' from the incoming president to help re-establish harmony inside the block. "Let's not forget that the only way out for Paraguay is through the Parana River and the River Plate", he insisted.
But Mujica also underlined that the suspension imposed on Paraguay in June 2012 was "mostly symbolic" since trade was not frozen or traffic along the rivers that connect Paraguay with the open sea, paralyzed.
Mujica again praised the significance of Venezuela as full member for Mercosur, an incorporation that has been rejected by the Paraguayan Senate.
"Venezuela is good for Mercosur, highly convenient, with all the energy they have, who wants to leave them out? Mercosur with Venezuela becomes a global energy power which multiplies enormously its possibilities" added the Uruguayan leader.
In June 2012 Paraguay was suspended by Mercosur and Unasur, following the impeachment and removal of Fernando Lugo from office and his replacement by current President Federico Franco.
Mercosur argued it was a 'congressional coup', imposed the suspension until fresh elections were held and immediately approved the incorporation of Venezuela as full member which was pending since 2006 because of the Paraguayan Senate opposition.
Paraguay insists the removal was done according to the constitution, that former president Lugo accepted the overwhelming vote that had him ousted and recalls that all new incorporations to the group must be on consensus with all full members present.
At the last Mercosur summit in Montevideo it was decided to lift the suspension of Paraguay effective 15 August, but the current administration of President Franco and president elect Cartes demand a formal recognition that the whole June 2012 was abusive and disrespectful for Paraguay and its institutions.
Meanwhile it was confirmed that President Mujica together with Brazil's Dilma Rousseff and Argentina's Cristina Fernandez will be attending the inauguration of president elect Cartes on 15 August.