In Mexico, Latam second largest economy over half the are catalogued as poor
Wednesday, July 31st 2013 - 05:49 UTC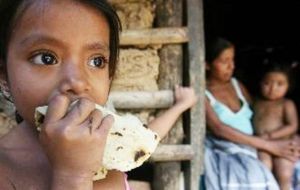 Poverty in Mexico, including extreme cases, decreased slightly between 2010 and 2012, reported the National Council for Evaluation of Social Development Policy. Official stats show that poverty in Mexico, Latam' second largest economy went from 46.1% of the population in 2010 to 45.5% in 2012, while extreme poverty fell from 11.3% to 9.8%.
However, due to the population change in this period the number of poor Mexicans has increased by a staggering 500,000 people. This figure was at 52.8 million in 2010 and then rose to 53.3 million in 2012. In 2010 it was estimated that there were 114.5 million people in the country, while in 2012 the population was 117.3 million.
The executive secretary of the council, Gonzalo Hernandez, said at a press conference that in the case of extreme poverty, the number of people in that condition fell from 13 million in 2010 to 11.5 million in 2012.
For several years the agency adjusted its methodology for measuring poverty and is now not only considering income but also access to public services like education, health, social security, housing and food.
Hernández said the increase in the total number of poor Mexicans grew because people with low incomes had less access to the health services. He noted that in the case of extreme poverty the decline is due to less social deprivation. This is, in part, thanks to the implementation of social programs.
However despite the high rate of violence and the more than 50 million poor, 52% of Mexicans approve of the president Enrique Peña Nieto, according to a survey published in the newspaper Reforma.
Peña Nieto's approval rating of 52% is slightly above the 50% he had last April, while his average rating is at 6.3 on a scale of 0 to 10, the same as it was in the previous poll.
The survey of 834 opinion leaders said Peña Nieto's received 67% support, 11 points less than in April, and a rating of 6.5, also below what he obtained in the previous survey (7.1).
The Mexican president's performance, who took office on December 1 last year, received unfavourable opinions among citizens on corruption (51%), employment (47%), economics (43%) and poverty (42%), while the favourable addressed areas such as health (54%) and education (49%).