Paraguay president Franco congratulates Mujica on his knowledge of geography
Wednesday, July 31st 2013 - 06:23 UTC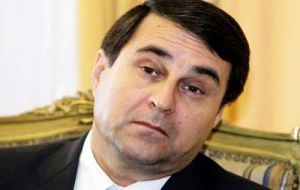 Paraguayan president Federico Franco replied to his Uruguayan peer Jose Mujica ironic remarks saying that 'evidently he's good at geography; I guess he passed with the highest grades' since he is aware that Paraguay is a landlocked 'Mediterranean' country.
President Mujica besides calling on suspended Paraguay to return with 'intelligence and pragmatism' to Mercosur and waning about the fact that the landlocked country needs of the Parana River and the River Plate for a sea outlet, ironically stated Uruguay was willing to grant Paraguay all the rotating Mercosur presidencies that belong to Uruguay, if that was needed as part of the return package.
Mujica had emphasized that on 15 August when president elect Horacio Cartes takes office in Asunción, that given the 'landlocked condition' of Paraguay "he was the most interested in a quick harmonious return to Mercosur".
"It is obvious president Mujica has a very good knowledge of geography. At that he is good. In effect Paraguay is a Mediterranean country and has no sea outlet", said President Franco.
Likewise Franco further questioned the comments from Mujica recalling that Paraguay received from the other nations, "what Mercosur denied us". Franco was referring to the fact that while Mercosur and Unasur sanctioned Paraguay, the Organization of the American States ruled out such action and on the contrary helped the country to overcome the situation which arose from the removal of Fernando Lugo from the Executive through a political impeachment.
"President Mujica in his comments was excessive. It is true we need from all of them and also from the rest of the world's nations…but Paraguay is opening other possibilities in other markets", concluded Franco.
President-elect Cartes had requested as part of the 'harmonious, pragmatic and intelligent' return of suspended Paraguay to Mercosur that, in a 'signal of good will' it be granted the group's presidency in the second half of the year. This did not happen and the presidency went to the latest incorporation, questioned and rejected by Paraguay, Venezuela.
Thus Mujica's ironic offer of all the Mercosur Uruguay presidencies.