Vatican bank opens its books to comply with 'honest and transparent' promise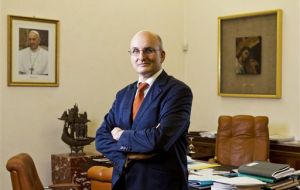 The Vatican bank opened its web site www.ior.va on Wednesday as it steps up efforts to improve its tarnished image after a succession of financial scandals and repeated criticisms of its lack of transparency.
Bank President Ernst von Freyberg told Vatican Radio the site www.ior.va would publish an annual report - the first time the bank has published accounts - and would provide information "on our reforms and the things we do in the world and how we support the Church and its mission and charitable works".
The bank, formally known as the Institute for Works of Religion (IOR), has been the target of several investigations by Italian magistrates, and European anti-money laundering committee Moneyval said last year it fell short of international transparency standards.
Pope Francis has appointed a special commission to provide proposals for the future of the IOR.

He said this week the bank must become "honest and transparent" and that he would listen to the advice of a commission on whether it can be reformed or needs to be shut down altogether.
Von Freyberg promised to open the website and publish the annual accounts soon after his appointment earlier this year. The publication of the annual report is planned for October, according to the site