Argentina president of the United Nations Security Council
Friday, August 2nd 2013 - 04:05 UTC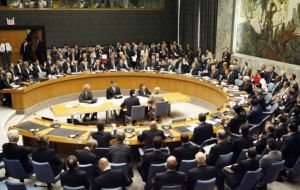 Argentina assumed on August first s the rotating Presidency of the United Nations Security Council. Argentina was elected as a non-permanent member of the multilateral body by the General Assembly for the 2013-2014 term rallying unanimous support among Latin American and Caribbean nations.
According to the Foreign Ministry, Argentina will carry out the task considering the "need to strengthen the body at a time when the international community seeks to respond to several challenges that have recently claimed lots of victims, involving a significant number of refugees, and which demands the need to stabilize and bolster states that have been faced with armed conflicts."
"In doing so, Argentina will continue to promote multilateral actions, the non-intervention in domestic issues, the transparency and democratization of the United Nations with full respect to human rights and humanitarian law being convinced that long-lasting peace is built in truth, justice and equality as well as in socio-economic development and social inclusion," the office run by Minister Héctor Timerman said in a statement.
The Security Council is a 15-member body. The United States, the United Kingdom, Russia, China and France hold permanent seats. Non-permanent members for the current two-year term are Argentina, Guatemala, Togo, Morocco, Rwanda, Republic of Korea, Pakistan, Azerbaijan, Australia and Luxembourg.
Maria Cristina Perceval is the current Argentine ambassador before the UN. She was appointed to the post in September 2012.