Berlusconi supports coalition despite his court setback and conviction for tax fraud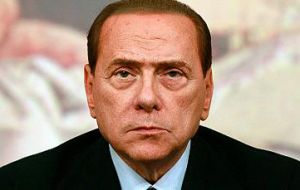 Centre-right leader Silvio Berlusconi has affirmed that Italy's shaky government, a coalition of his party with the centre left, must continue despite severe tensions after the Supreme Court confirmed his conviction for tax fraud.
"We have said loud and clear that the government must go forward to approve the economic measures that we asked for and were agreed," the media mogul told a rally of about 2,000 loyalist supporters outside his Rome residence on Sunday. They were demonstrating against the Supreme Court's confirmation of a year's jail sentence handed down by lower courts.
Days of increasingly heated bickering between the coalition's partners in the wake of the verdict had raised fears that the three-month old government of Enrico Letta could collapse. "What drives us is not our personal interests. Always the interests of everyone and of our Italy come first," Berlusconi told adoring supporters.