Yerba mate price soars but consumers remain faithful to the traditional infusion
Monday, August 5th 2013 - 01:38 UTC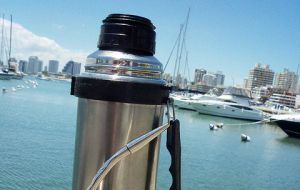 Yerba mate, the classical infusion drink in much of southern South America and particularly in Uruguay is making headlines because of a 34% price increase in the last six months and with prospects of further hikes, according to local providers.
"Ilex Paraguariensis" grounded leaves make the input of the warm infusion which is drank from a gourd with a metal straw, and shared in rounds as a symbol of friendship. It has been around for centuries, since the time of the original indigenous Guarani who also enjoyed its caffeine and other energizing and digestive properties.
Mate with different names is a common infusion in much of Argentina, Paraguay, south Brazil and the whole of Uruguay which with an annual per capita consumption of 9.1 kilos per annum is by far the main drinker of the infusion. It is quite a common site in the capital Montevideo and in the farms, to see both men and women carrying the gourd and a thermos with warm/hot water.
So sensitive is the issue that in the Uruguayan Parliament the main opposition party has pledged to support the government if they propose a bill reducing the taxes that the import of yerba mate pays, as to help soften the increase.
Consumer surveys also show that even in the periphery of Montevideo and in low-income neighbourhoods, people are willing to pay a few extra pesos to ensure the quality of the yerba mate brand they prefer.
"Basically it's not a matter of price, it is rather a cultural phenomenon; nobody believes that he will be poorer paying more for yerba. It is not considered a luxury and a 2011 survey showed that 55% of consumers were prepared to pay more for their favourite brand, while 45% did not believe paying more would mean a better quality", according to a Fast Track consumer group survey.
But in six months the price of a kilo of yerba mate, has soared from less that four dollars the kilo to 5.50 dollars and the big question is why.
Uruguayan main importers and suppliers point to several reasons: among the immediate causes is a major purchase by an energizing bottling company in Brazil which surprised the market; growing demand from the Middle East and the rising value of the US dollar in the Uruguayan market.
In effect there are different types of yerba, and Uruguayans prefer the mild flavoured imported mostly from Brazil; the Paraguayan brand is far stronger and the Argentine version which besides leaves includes twigs is considered too light.
On a more long term, yerba mate in Uruguay is universal and drinking the infusion does not have any social implication: almost everybody drinks mate and so do the new generations, with the aggregate that it is now believed to have some slimming properties, so demand is sustained.
And the other significant reason is that "Ilex Paraguariensis" is a shrub that turns into a tree and takes years to grow, but some farmers believe that soybeans are far more profitable. This means that in some of that land in Brazil shrubs are being pulled out and replaced by the oilseed.
Given these prospects Uruguayan importers have warned that the big hike of this last six months should not be repeated but a gradual steady increase can be expected since it is a simple question of "supply and demand".
"That is what our suppliers from Brazil are telling us adding that in any Brazilian supermarket the price of a kilo of yerba mate is already close to eight dollars, so get ready", said a representative from Molinos Carrau, one of the main distributors.