Brazil's Dilma celebrates decline in food prices reflected in 'contained' inflation
Wednesday, August 7th 2013 - 17:49 UTC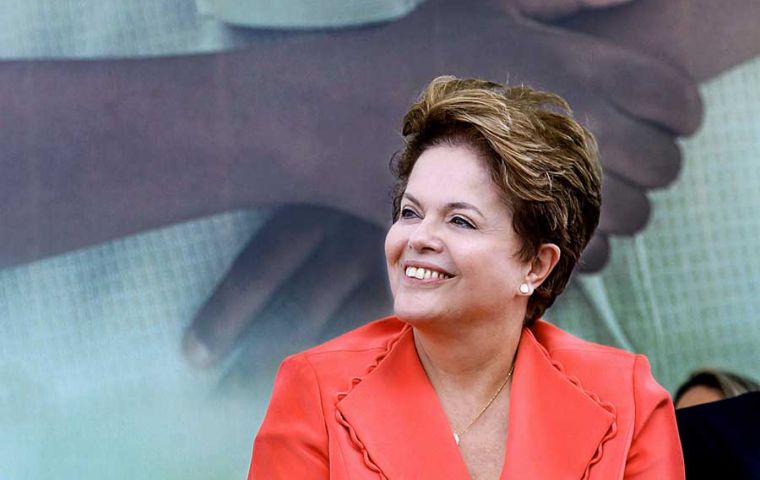 The first decline in food prices in two years provided temporary assistance to Brazilian President Dilma Rousseff's efforts to tame inflation. Prices as measured by the benchmark IPCA index rose 0.03% in July and more encouraging with prospects for prices to remain unchanged.
Cheaper food costs, as well as declines for transportation and clothing, lowered 12-month inflation, which had exceeded the 6.5% upper limit of the government's target range, to 6.27%.
Food prices dropped 0.33% in July, clothing prices fell 0.39% and transportation costs contracted 0.66%, the Rio de Janeiro-based statistics agency said.
President Dilma Rousseff celebrated the news saying that the IPCA index shows inflation is under control and has been systematically falling.
Likewise "IPCA indicates that food prices are contained in the 18 capitals surveyed, which means the basic food basket prices are down. I would say that inflation is now entirely under control, with the lowest showings of this mandate", said the Brazilian president during a visit outside the capital Brasilia.
Finance Minister Guido Mantega was equally happy saying it shows that inflation remains under control in Brazil and the latest stats also show the economy begins to pick up.
The reading can be considered an achievement since the Real has plunged nearly 13% over the past three months, although a month long wave of street protests over rising bus fares and the quality of public services could mean further trouble ahead.
The weakening Brazilian currency led the government to cut tariffs this month on more than 100 imported products, including basic materials such as steel.
The central bank also raised the benchmark rate by 50 basis points to 8.5% in July following a 75-basis-point boost between April and May. Traders expect policy makers to raise rates to 9% this month.
Economists expect inflation to accelerate to 5.87% in 2014 from 5.75% this year, according to the median forecast in a central bank survey published this week.