Argentina central bank turned into state-financing tool: recession and higher inflation forecasted
Thursday, August 8th 2013 - 03:05 UTC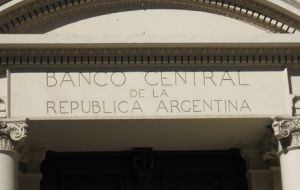 Argentina is forecasted to fall into recession next year on the back of super-loose money policy with inflation reaching 24% this year and 30% in 2014 as the government continues to appeal to Central bank resources to meet budget commitments, according to London based Capital Economics.
"While growth has bounced back a little this year, following a flat performance in 2012, we expect to see a relapse into recession by 2014", points out the economic consultants.
"Argentina seems to be sliding towards a balance of payments crisis which is likely to culminate in a devaluation of the official exchange rate" reaching 8 Pesos to the dollar by mid 2014.
Capital economics argues that over the last decade Argentine public finances have deteriorated steadily with the fiscal budget deficit standing at 2.6% of GDP, the highest since the economic collapse of 2001.
With a bloated system of subsidies and handouts plus the widening energy deficit and greater spending ahead of the October mid-term elections, there is only one direction for the bloating fiscal budget deficit.
To face this situation the government of President Cristina Fernandez has relied on the transfer of assets from public institutions such as the pensions' agency Anses and the Central bank, which has turned basically into the state-financing vehicle.
In effect with changes introduced to the charter last year, the Central bank can implement a generous capacity to swap hard currency reserves for illiquid government obligations which pay little or no interest.
According to Capital economics, "low quality, illiquid government-linked securities (including non-transferable treasury bills and temporary IOUs) now account for a staggering 58% of central bank assets and at the same time, Central bank reserves have fallen back in recent years and now equate to less than six months of import cover".
Likewise the limits to printing pesos to lend the government have been substantially relaxed, with the obvious consequences of spurring inflation and further undermining confidence in the Peso.