Kerry arrives in Brazil on Tuesday to try and iron out strained relations over US spying
Saturday, August 10th 2013 - 02:38 UTC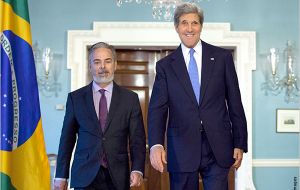 The government of President Dilma Rousseff will raise the issue of US spying on Brazilian companies and individuals next week when US Secretary of State John Kerry visits Brazil.
"It is an issue that cannot be left out of the bilateral US-Brazil agenda," Foreign Minister Antonio Patriota said at a news conference in Rio de Janeiro.
US Secretary of State Kerry is scheduled to visit Brazil on Tuesday.

Last month, Patriota expressed serious concerns over a report, which said the US National Security Agency (NSA) had been spying on Brazilian companies and individuals for a decade.
Brazil's O Globo newspaper reported on July 7 that the NSA had collected data on billions of telephone and email conversations in the country.
The Globo report said that information released by US surveillance whistleblower Edward Snowden reveals that the number of telephone and email messages logged by the NSA in the 10-year period was near to the 2.3 billion captured in the US.
The Brazilian foreign minister expressed "deep concern at the report that electronic and telephone communications of Brazilian citizens are being the object of espionage by organs of American intelligence."
"The Brazilian government has asked for clarifications" through the US Embassy in Brasilia and the Brazilian Embassy in Washington, Patriota said.
Patriota also said Brazil will ask the United Nations for measures "to impede abuses and protect the privacy" of Internet users, laying down rules for governments "to guarantee cybernetic security that protects the rights of citizens and preserves the sovereignty of all countries."
Snowden, a former CIA employee, leaked two top secret US government spying programs under which the NSA and the Federal Bureau of Investigation (FBI) are eavesdropping on millions of American and European phone records and the Internet data from major Internet companies such as Facebook, Yahoo, Google, Apple, and Microsoft.
The NSA scandal took even broader dimensions when Snowden revealed information about its espionage activities targeting friendly countries.
On Tuesday, Brazil-based US reporter Glenn Greenwald, who first released the top-secret documents Snowden had taken out of the US, said he had received up to 20,000 secret US government documents from the US surveillance whistleblower Snowden.