UK/Gibraltar dossier on queues at the Spanish border to make a complaint at the EC
Saturday, August 10th 2013 - 16:26 UTC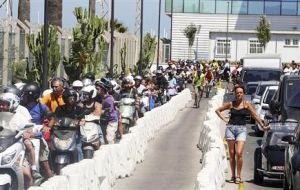 The Foreign office and the Gibraltar government confirmed they are collecting a dossier on politically motivated queues at the Spain/Gibraltar border with a view to making a formal complaint to the European Commission.
"The UK's Government's position is that these delays are unjustified and unacceptable; and the imposition of border controls for politically-motivated reasons is in contravention of EU law," said the Foreign Office.
The Foreign Office declared that these delays impact on the prosperity and wellbeing of people in both Gibraltar and Spain. "We understand that the majority of vehicles crossing the border in recent days are Spanish It is striking that the Spanish authorities are willing to put in place these illegitimate and disproportionate measures regardless of the impact on their own community."
"We are collecting evidence of these politically motivated border delays in collaboration with the Government of Gibraltar. This evidence will be submitted to the European Commission to investigate these illegitimate and disproportionate border delays as soon as possible. Our main concern is to restore people's basic right to freedom of movement and enable a return to normal operations at the border. We have made this clear to the Spanish Government."
The UK firmly believes that our differences with Spain on Gibraltar should be resolved by political means, not through illegitimate and disproportionate measures such as the border delays we have seen in recent days.