Unasur lifts suspension pending on Paraguay effective 15 August
Sunday, August 11th 2013 - 04:36 UTC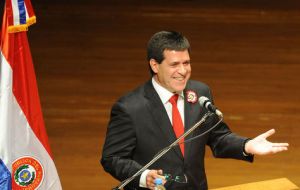 The Union of South American Nations, Unasur, decided late Friday to lift the suspension pending on Paraguay, which will become effective next 15 August when president-elect Horacio Cartes takes office.
The announcement said the decision was adopted by the Unasur Council of Heads of State and made public via a release from the Foreign Affairs ministry of Peru since Lima currently holds the chair of the regional group.
"The decision was communicated to the Republic of Paraguay, and it will be effective as of next 15 August", said the release.
Paraguay was suspended from Unasur and Mercosur in June 2012 in a controversial decision following the removal of Fernando Lugo and his replacement by President Federico Franco. The action took place according to the Paraguayan constitution, an overwhelming majority and was accepted by Lugo, but Mercosur and Unasur decided it had been a 'congressional coup'.
At the time it was announced that the return of Paraguay would take place once fresh elections were held and a new 'legitimate' president elected.
Unasur includes Argentina, Colombia, Chile, Ecuador, Guyana, Paraguay, Peru, Suriname, Uruguay, Bolivia, Brazil and Venezuela.
Cartes is scheduled to take office 15 August but his administration has anticipated it is in no rush to return to Mercosur until there is evidence of respect for Paraguay's dignity, rule of the law, international law and Mercosur institutions.