Argentine military sent napalm bombs to Bolivia to help hunt Che Guevara reveal Brazil documents
Tuesday, August 13th 2013 - 02:07 UTC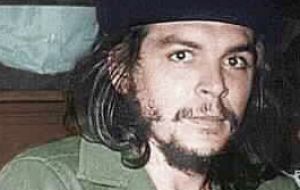 The military government that ruled Argentina in 1967 provided its Bolivian peers with napalm bombs and other arms to help combat guerrillas headed by Ernesto Che Guevara who three months after delivery was killed, according to released documents in Brazil and published by O Estado de Sao Paulo.
The confidential documents from the Brazilian Armed Forces Joint chiefs of staff which closely monitored Latinamerican countries for 'military and strategic' info indicate, according to a facsimile, that in 1967 Argentina shipped to Bolivia 100 napalm bombs of 100 kilos; 250 FAL rifles and 200 pistols calibre 45 with 30.000 and 5.000 bullets and another batch of 50 napalm bombs of 50 kilos. The document was dated 31 Augost 1967, and in October the Argentine-Cuban guerrilla fighter had been caught and killed in the Bolivian highlands.
Although Brazil was not convinced about the information on the alleged presence of Che Guevara in Bolivia, it did know about the support from Argentine dictator General Juan Carlos Onganía to his Bolivian peer René Barrientos who was intent in catching the guerrilla leader sent by the Cubans to trigger the 'revolution' among the peasants.
However Brazil diagnosed a lack of preparation of the Bolivian military to face the guerrilla and collaborated with counter-insurgency aid by training pilots from the Bolivian Air Force.
The documents revealed by O Estado de Sao Paulo also show that the Brazilian military regime (1964/1985) was obsessed with collecting strategic and military info from its neighbours and the region and for this had mounted an espionage network in the different countries.
Declassified documents reveal that in 1978 the Brazilian high command saw in Argentina its "most probable enemy" and that at the end of the sixties it was particularly concerned with the "danger of the Bolivian guerrilla because it had instructors from Cuba, an ally of the Soviet Union".
The reports underline the Argentine military superiority in the region at the time, which led the Brazilian military to prepare for a possible conflict, which also contemplated alliances with other neighbouring countries such as Uruguay and Paraguay.
At the end of the sixties the Brazilian military regime equally organized a close vigilance over the left wing guerrilla movements in Bolivia, Colombia and Venezuela fearing they could expand into Brazil.
According to O Estado de Sao Paulo Brazilian diplomats and military attachés for years were responsible for collecting all possible information on military and strategic secrets of Latinamerican countries.
This was particularly geared to "the general structure of the Defence ministries, their organization and functioning, number and weapons of each armed forces, commands, strength and equipment of the ground troops, their distribution and mobilization orders among other strategic issues such as anti aircraft and defence capacity as well as underground installations".