Uruguay announces on-shore oil "scientific confirmation" but with no commercial certainty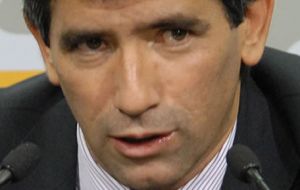 The Uruguayan government announced the discovery of free hydrocarbons liquids in core samples next to source rocks in the northern county of Salto at a depth of 450 metres, which seems to be similar to another discovery two years ago.
"The zone contains a layer of rock formations with a high percentage of carbon, organic matter which had accumulated the hydrocarbons liquids" said Raul Sendic head of Uruguay's Fuels and refining government company Ancap.
"Samples sent to the lab in Houston confirmed the existence of free hydrocarbons liquids in small volumes outside source rocks", pointed out Sendic who added that until now "we had never found oil outside source rocks, which indicates a maturing process that enable the oil to squeeze out to higher layers".
However Sendic indicated that this is "a scientific confirmation" but does not mean the discovery of oil in commercial volumes; it indicates we are getting closer to source rock formations that are encouraging and signal we are on the right track".
Sendic said Ancap is now planning to work at a greater depth and take the exploratory surveying further north. Other companies are making a similar work in two other Uruguayan districts to the north and centre of the country.
The head of Ancap also revealed that the French company Total and Norway's Statoil have requested licences to try on-shore exploration, which opens a new work prospect, "far broader and with an even greater investment".
"If we continue on this track, in three to four years we should have very good news", anticipated Sendic.
Two years ago Ancap announced for the first time in the country's history that there were strong indications of oil in the Uruguayan subsoil, which should be great news for Uruguay since it must import all of its fossil energy.
The discovery took place in the district of Durazno in the heart of the country and was done by the US company Chesapeake Energy on contract since 2009 with the Uruguayan government.
Uruguay has been looking for hydrocarbons at different spells for decades, but with the improvement of technology and surveying it has awarded licences for offshore exploration in the seabed of its EEZ, while at the same experimenting on-shore.
Two licensing rounds have been organized so far: Uruguay I in 2009; Uruguay Round II in 2012 and a third is scheduled for 2015. British Petroleum, British Gas, Tullow and Total hold exploration areas and French Total is planning to drill a first well in 2015.
In the coming three years the oil companies doing exploratory related tasks are expected to invest in the range of 1.5bn dollars according to Ancap management.