UK likely to win at EU court the Gibraltar border 'excessive checks' case
Thursday, August 15th 2013 - 03:20 UTC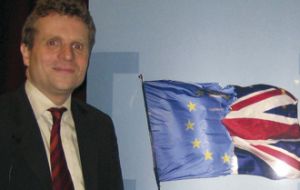 Britain is likely to win a case against Spain over the imposition of excessive border queues and could get an interim order to ease the controls from the European Court of Justice said Professor Damian Chalmers an expert in EU law at LSE and who is a Jean Monnet Chair and was editor of the European Law Review and EU Jurist.
Professor Chalmers told a BBC 4 PM program that it is rare for states to take each other to the European Court of Justice. He said that Spain can only impose "minimal checks on EU citizens at its borders, whether they are internal or external EU borders" and added "that it all boils down to whether or not Gibraltarians are EU citizens".
"The UK government and the [European] Commission think they are," he said adding this was made clear when UK acceded to the European Community.
From what he had read these current checks are "some way above what is minimal".
Professor Chalmers also said that it makes no difference whether Gibraltar is regarded as an external or internal border. "The law…is the same in relation to external frontiers. The test for external frontiers for EU citizens is minimum checks".
Professor Chalmers said that legal action would probably go to the European Court of Justice and that would take some 15 months. But in the meantime, he said, UK would probably seek an interim measure from the Court of Justice pending final judgement.
"The court could give an order to Spain to make its controls less onerous."
The professor said that Gibraltarians and Spanish citizens could themselves sue the Spanish government before the Spanish courts for breach of EU law.
As for the European Commission team set to visit Gibraltar's frontier in September, Professor Chalmers said that the issue is how proportionate the controls are. If it finds them to be disproportionate then the Commission will take legal proceedings of its own to Court of Justice.
"I would be betting on Britain winning the case, but nothing is a foregone conclusion before the courts," he said on being asked to calculate the odds.
Interviewed on the same program Ignacio Ibañez director for Foreign policy at Spanish Foreign Ministry defended the queues saying that Gibraltar is out of Schengen and the Customs Union and that Spain had an obligation to make checks. He also said that increased smuggling had forced greater checks.
Ibañez said that UK had been informed by Spain of the increases in tobacco seized. In 2009 it was 65 million cigarettes and now 139 million. He denied any connection to the reef being created.
As to a UK court challenge he stated "We are not worried, [we are] convinced right is on our side." But asked point blank if Spain considers Gibraltarians to be EU citizens he said that "they are UK citizens. For the time that UK considers them part of the EU of course they are." He added that what Spain is discussing is the status of Gibraltar as a colony.