Argentina will pay bonds maturing in September with Central bank reserves
Friday, August 16th 2013 - 03:37 UTC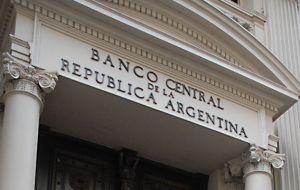 Argentina's central bank approved on Thursday the use of 2.5 billion dollars to pay public debt through the rest of 2013, a move that will further diminish reserves already stretched by heavy state spending ahead of the October midterm election.
Most of the funds, 2.2bn dollars will be used to cancel the Bonar bond which matures next September.
In a brief release explaining the latest operation, the Central bank said that since the implementation of the debt-lowering policy, 'sovereign debt in the hands of private holders has dropped from 105% of GDP in 2003 to 13% in 2013".
Argentina has been cut off from the international bond market since its catastrophic 2002 sovereign default and manages to operate with a trade surplus mostly from soy and corn exports.
But public spending has outpaced revenue as the Oct. 27 congressional election approaches.
Central bank reserves at the beginning of the week were about 37 billion, down from 45 billion a year ago.