Brazil's June economic activity picked up, but recovery remains fragile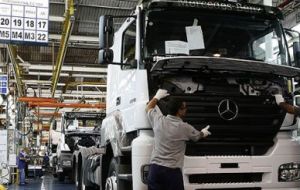 Brazil's economic activity grew at a slightly slower pace than expected in June despite strong industrial output, data showed on Thursday. The central bank's IBC-Br index climbed 1.13% in June from May in seasonally adjusted terms, up from a decline of 1.50% in the previous month.
Activity in May was also revised lower, from a previously reported decline of 1.40%. The index, a proxy for GDP data due later this month, also slowed in the second quarter as policymakers scrambled to deal with rising inflation.
Economic activity measured by index grew 0.89% between April and June, down from an expansion of 1.10% in the first quarter.
But analysts were cautious to conclude economic growth weakened from April to June, as the methodology in the central bank's survey differs from that used by the statistics agency IBGE. Brazil's statistics agency IBGE unveils its official GDP data on Aug. 30.
Most of the rise in June's economic activity was explained by a 1.6% increase in industrial output, largely due to a spike in truck production, according to analysts' reports before the release.
On Wednesday, the government reported that retail sales also grew in June, but at a slower pace than expected, as the largest street protests in decades disrupted shopping habits and retail operations.
Analysts have slashed their forecasts for Brazil's economic growth in 2013 and 2014 in recent months to 2.2 and 2.5%, arguing that Latin America's largest economy can no longer grow solely based on its big consumer market.
Brazil nearly skirted a recession in late 2011 and early 2012 following years of rapid economic growth. Policymakers slashed interest rates and offered several tax cuts and credit lines to revive growth through consumer demand, which helped foster inflation.