EC agrees to send fact-finding mission to investigate Spain controls at Gibraltar border
Tuesday, August 20th 2013 - 21:35 UTC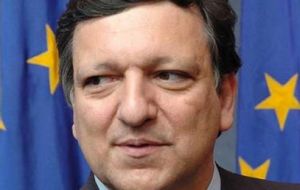 European Commission president Jose Manuel Durao Barroso and Spain's Mariano Rajoy discussed Gibraltar on the phone and agreed that the Commission should dispatch observers to the border "as soon as possible" to examine controls on the movement of people and goods, the EC said in a statement.
The official statement made no reference to Spain's threat to impose a toll at the border crossing but a spokesperson later answered questions from reporters at a briefing, though he noted there was no formal proposal from Spain as yet.
"Any tax or fees imposed at the border of a member state will be illegal under EU law," EC spokesperson Olivier Bailly told reporters.
Last week, Barroso held a similar conversation with UK Prime Minister David Cameron during which he said the Commission "continuously" monitored developments at the Gibraltar border and would do whatever was in its remit to ensure EU law was respected.
Barroso also urged both Cameron and Rajoy to address Gibraltar issues "…in a way that is in line with their common membership of the EU".
In a statement, the Spanish Government said Rajoy had explained to EC Barroso Spain's position that the border checks were "random, proportionate and not discriminatory" and therefore in line with EU law.
The statement from La Moncloa added that Rajoy did not discuss the issue of a "congestion charge" with the Commission President. The Spanish President also complained to Barroso that Gibraltar's "unilateral" creation of an artificial reef was "unacceptable and a violation of environmental legislation".
Rajoy highlighted "…the need to verify and control that economic activity in Gibraltar does not breach European legislation on money laundering, smuggling and taxation."
He said Spain would apply legal measures in defence of Spanish interests.
The statement added that Rajoy had signalled Spain's willingness to engage in dialogue with the UK, "…in accordance with international and European law and on the terms agreed with the Prime Minister of the United Kingdom."
But there was tough language from the UK too as Downing Street declined to rule out the use of retaliatory political action against Spain if its diplomatic row with Britain over Gibraltar was not resolved quickly.
The Times reported last week that UK officials were examining the potential to disrupt Spain's lucrative tourist industry as well as blocking its policy initiatives at the EU.
Pressed repeatedly on the potential for such action, a Number 10 spokesperson told reporters: "Our preference here is to resolve this via political means and through dialogue with the Spanish government".
"We clearly want to reach a quick resolution which is acceptable and brings an end to these totally disproportionate border checks."
Asked if David Cameron was confident of securing a swift resolution, he said: "We will do what we need to do to bring this to a satisfactory conclusion." The Number 10 spokesperson the Prime Minister wanted the EU to send monitors to the border "urgently".
"We are still actively pursuing legal action," he added. "If we do pursue it, the first step would be for the European Commission to investigate the issue."
In Gibraltar Chief Minister Fabian Picardo said there was "a very high prospect" of resolving the issues underlying the current dispute. But he left no doubt of Gibraltar's view of Spain's tactic of using the border as a choke point with which to exert pressure on Gibraltar and the UK.
"The officiousness of what is going on now is so clearly directed politically, and it's quite unfair because it is being visited on innocent people who need to cross the frontier," Mr Picardo said. "We're dealing with diplomatic issues that should be dealt with at a diplomatic level."
Speaking on BBC Breakfast, he said the Government of Gibraltar had been working with the Spanish fishermen for over a year now - "they've all been in my office, I've listened to what they have to say" – and that the report it had prepared on marine management drew on the expertise of fisheries experts from the UK and Spain.
"We've been working on an extremely credible plan to ensure that people who want to fish in these waters can fish in these waters in keeping with Gibraltar law," he said. "That also involves the reef, because we need to regenerate the marine environment." "I'm certainly very hopeful that common sense is going to start to prevail and we'll be able to go back to normality as soon as possible."
Meanwhile a Royal Navy warship carried out "a sovereignty patrol" as it arrived in Gibraltar Monday on a routine visit unrelated to the current dispute. The Type 23 frigate HMS Westminster sailed into port just after 9am on what Britain's Ministry of Defence has described as "a long-planned routine deployment".
On its way in, it steamed slowly along the meridian line that separates British from Spanish waters in the Bay of Gibraltar.
"HMS Westminster carried out a sovereignty patrol as she sailed into Gibraltar," a spokesman for Headquarters British Forces said.
Such patrols have been standard practice for visiting British warships for some time, but this one came a day after Spanish fishermen protested at sea over Gibraltar's artificial reef.
The Guardia Civil kept well away as HMS Westminster sailed in escorted by vessels from the Gibraltar Squadron and the Gibraltar Defence Police. But a Spanish patrol boat passed close to Gibraltar port not long after the warship arrived and was seen out of the area by a local police boat.
HMS Westminster is accompanied by two Royal Fleet Auxiliary support vessels, RFA Lyme Bay and RFA Mounts Bay, and all three will form part of an annual naval exercise known as Cougar 13.
Chief Minister Fabian Picardo, speaking on BBC Breakfast, played down the presence of the ships in Gibraltar, which he described as "home away from home" for the Royal Navy. "It's got nothing to do with the current tensions," Mr Picardo said.
"Although you might try and see symbolism in it, there is very little in it which relates it to the events we're dealing with at the moment."
The arrival of the vessels was watched from shore by a handful of enthusiastic Gibraltarians happy to see the British naval presence.
Julie Girling, the Conservative MEP for the South West and Gibraltar, is in Gibraltar for talks with local politicians and also welcomed the ships.
"I think what the people of Gibraltar have really appreciated with the arrival of Westminster today, and the two support ships, is that it is flying the flag, it is saying 'we British people support the Gibraltarians, we are not abandoning you', and that has been very, very welcome," she said.