Brazil surprised by Dilma Rousseff's 'city tour' adventure on a Harley-Davidson
Monday, August 26th 2013 - 03:43 UTC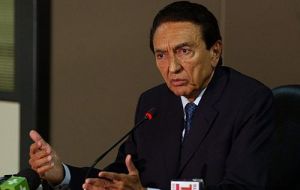 Brazilian president Dilma Rousseff had a long standing wish and it was finally made true with the help of an accomplice and high ranking official from her administration: a ride in motorbike to see Brasilia first hand without being recognized.
The event took place on a Sunday night earlier this month when Dilma put on a protection helmet and rushed around the city with Carlos Gabas, a social security official who loves motorbikes and has his own Harley Davidson.
The story was leaked to the media by Mines and Energy minister Edson Lobao, but could not be confirmed at the Planalto Palace since the president does not have a driving licence and apparently has never commanded a motorbike.
However according to the Brazilian media, a member of the presidential staff on condition of not revealing his name admitted he would have never imagined that the president's wish for a 'look around town' could have ever happened and in any case it was more like 'a joke to keep us nervous'.
Gabas who loves motorbikes and when summoned to the Alborada Palace does so in his Harley Davidson, was the man responsible for the escape with the president sitting behind.
The 'look around town' apparently occurred when the lowering of the flag ceremony, so that those responsible for the president's security would not interfere.
The revelation of her 'city tour on a motorbike' was made colloquially and with an air of happiness by the president to minister Lobao, who could not believe what he had heard.
"I couldn't believe it but when I met (General Marcon Antonio) Amaro in the lift, I had to believe it", said Lobao.
In effect when casually mentioning the 'city tour' President Rousseff told Lobao "not even he was aware" in reference to General Amaro, present at the meeting and who is responsible for the security and safety of the president.
But the General surprised the president: "We knew about it and I sent a party to follow the Lady from the distance" as not to quash the presidential wish that in effect she had had a motorbike adventure.
Anyway the president told Lobao, "the air of Brasilia had a better feeling" than in here.

A shocked Lobao replied saying that "you don't just have to worry about yourself and Paula (her daughter) but also 200 million Brazilians." And Dilma Rousseff quickly replied "Life is full of risks; everything we do involves risk".
However Lobao finally gave in, "it was an adventure of the president. She has a right to enjoy. Her post limits very much her options. She can't walk in normally to a theatre, cinema or restaurants…"
When the news was leaked the media immediately tried to contact Gabas but there was no answer. Faithful to his passion he was off to the United States for a gathering of Harley-Davidson motorbikes, according to the photos in his Facebook