Falkland's Falklands' lawmakers to Commonwealth Parliamentary conference in South Africa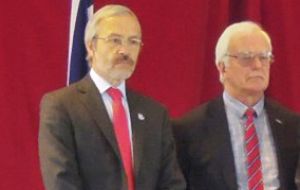 Falkland Islands lawmakers, MLA Roger Edwards and MLA Barry Elsby are travelling to South Africa to attend the 59th Commonwealth Parliamentary conference and associated events to be held between 28 August and 6 September
According to the CPA site one of the issues to be addressed in Johannesburg in the new Charter of Commonwealth principles and it is estimated that more than 600 Parliamentarians and parliamentary officials will debate the contents and role of the Charter.
As well as the Charter, Commonwealth MPs will also share experiences to help resolve such other global issues as: reaching the Millennium Development goals by the 2015 target date, accessing rural land, sharing resource revenues, caring for an ageing population and separating powers between the different branches of government.
The Commonwealth Charter, among its 16 areas of shared values, commits member nations to good democratic governance and respect for the rule of law and human rights.
The Parliamentarians will examine how Parliaments and individual MPs can best scrutinize their governments to ensure all member nations adhere to the Charter's core values and the principles of Commonwealth membership, said the Chairperson of the CPA Executive Committee, Rt Hon. Sir Alan Haselhurst, MP, of the United Kingdom.
Member of the Legislative Assembly Edwards said that the conference will be an excellent opportunity to stress the political advance of the Falklands and this year's referendum results which have had a major international impact.