Spain conditions talks with UK to removal of cement blocks from Gibraltar bay
Monday, August 26th 2013 - 03:21 UTC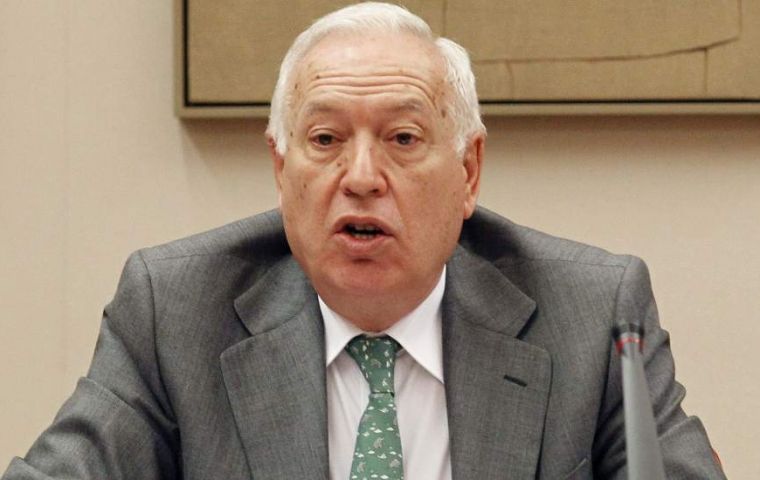 Spain will only discuss about fisheries with the UK after the blocks dumped into the Gibraltar bay have been removed, said foreign minister Jose Manuel Garcia-Margallo in a Sunday interview with the right wing newspaper La Razon.
Garcia-Margallo also points out that Spain is satisfied that the European Union had decided to get 'involved in the issue' and to act as a mediator in the Gibraltar jurisdictional waters conflict between Spain and the UK.
Likewise the Spanish minister warns about the risk of relations with London 'cooling' because of the attitude of Gibraltar Chief Minister Fabian Picardo regarding the fisheries and environment controversy, "Spain is doing everything possible to ensure that this does not happen. Spain and the UK are very close allies".
But the minister also expressed perplexity at British Prim Minister David Cameron's threats "to adopt legal measures" against Spain following on the government's request that the EU intervene in the issue, and insists that "you can't pretend for us to look the other way if there is smuggling, money laundering and illicit traffic" going on in Gibraltar.
"We have offered Foreign Secretary William Hague to dialogue on national cooperation and sovereignty, but you can't sit to a table to discuss establishing conditions", said Garcia Margallo in reference to the blocks dumped into the bay which he described as "an environmental crime".
Regarding his speech next 3 September before Congress, the minister said his purpose is to agree on "a common front" with all political parties on the Gibraltar issue conflict.
"This does not mean an 'unconditional adhesion' to the government's line of action but rather an agreement on a common principle", said Garcia Margallo.
In effect the main opposition party the Socialist has criticized the "rhetoric statements" and the 'high tone headlines" against Gibraltar authorities instead of looking for a dialogued solution with the UK. But Garcia Margallo believes that discrepancies can be worked out and a "vast political consensus" reached on the Gibraltar conflict.
In related news, Spanish authorities have banned the access to Gibraltar of any trucks carrying sand, rocks, cement or materials that can be used for making blocks such as those dumped into the bay. The decision follows requests from Spain's Attorney's Office, the Environment ministry and the Guardia Civil and is based on claims made by the different fishing associations neighbouring with Gibraltar.
But despite the conflict there is no love lost for Spain: some 1.8 million Brits headed overseas this weekend with Spain the number one destination of holidaymakers, particularly the Balearic and Canary Islands, according to travel organisation Abta. The Spanish city of Barcelona has also proved popular for the bank holiday city break, added Abta.