EU will decide if cement blocks dumped in Gibraltar Bay is an environmental crime
Tuesday, August 27th 2013 - 01:05 UTC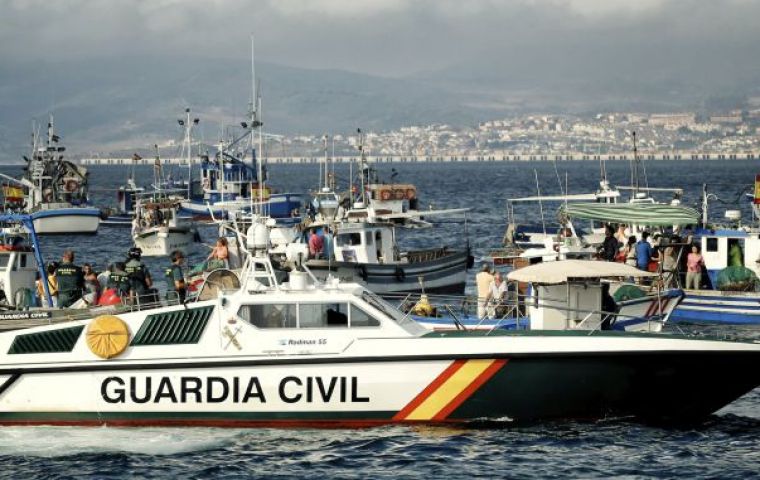 Brussels will determine whether the 70 cement blocks dumped in the Gibraltar bay are legal or not, according to the European Union spokesperson Olivier Bailly who anticipated an EC fact finding mission can be expected next month to visit the controversy area.
"It is the European Commission that will address Spain's complaint and decide if it is a possible violation of EU environmental legislation".
On Sunday Gibraltar Chief minister Fabian Picardo was quoted saying the EU has no powers in environmental matters to force the Rock to lift the cement blocks which according to Spain were deliberately dumped to prevent local Spanish artisanal fishermen from catching.
Gibraltar argues they exist with the purpose of building a reef.
The controversy over the cement blocks and Spain's reaction imposing strict controls in the border with hours-long queues has further exacerbated relations between Madrid and London.
Bailly said that it has yet to be determined how the visiting mission of experts will be conformed or the date when it is scheduled to arrive in Gibraltar, since the issue "must be agreed with the different EC services to be involved and besides have the green light from Spain and the UK".
Nevertheless the EU spokesperson said September was a good guess.
"The range of activities of the mission is quite clear for us: the border controls, movement of persons and goods, including contraband, but nothing on fiscal fraud".
On Sunday in an interview with the right-wing newspaper La Razon, Spain's Foreign minister Jose Manuel Garcia-Margallo conditioned any negotiations with the UK on fisheries to the elimination of the cement blocks dumped in the Gibraltar Bay.