Argentina's international reserves at a six year record low, and sliding ….
Wednesday, August 28th 2013 - 01:07 UTC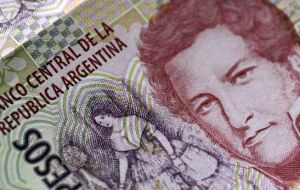 Argentina's central bank international reserves pierced the psychological barrier of 37bn dollars and ended Tuesday at 36.9bn dollars, which is the lowest in over six years and will continue to drain since next month the country must repay in full 2bn of a 2007 sovereign bond.
The latest release from the bank shows that Argentina has been losing reserves at the rate of a billion a month, despite the 'dollar clamp', as it is forced to address foreign debt payments and to keep the US currency at a 'pre-determined' level in the local money exchange market.
Compared to the historic maximum of 56.65bn dollars reserves in 2011, the bank has lost 19.7bn and 6.36bn so far this year, which is equivalent to 14.7% from the 43.29bn at the start of 2013.
However the 'irreversible' erosion process this year was attenuated by a record crop coupled with excellent international prices, close to their records.
The Argentine government has argued that its strict measures on holding and operating with dollars has helped to make the loss far less, but some economists also point out that precisely that extreme also eliminated all incentives to bring money into Argentina.
In this context the energy deficit represented in imports an estimated, so far, of 4.7bn dollars (because of years of no incentives to drill for new reserves), to which must be added another 7.4bn dollars spent by Argentines travelling overseas boosted by an over-valued Argentine Peso (the gap between the official rate and the parallel is over 65%), allegedly to help contain inflation.
The central bank balance sheet reveals that Argentina saved almost 20bn dollars: 'managing' imports, 3bn; restrictions on dividend transfers, 2.4bn; freezing oil royalties another billion and by blocking the flight of dollars, 13bn.
But what was overlooked is that the clogging of escape routes made some of the access channels change their mind and reverse. This includes bank deposits in local banks and foreign financing anaemia for provinces, banks, companies or simply a stand and wait attitude because come the moment it would not be possible to take dollars out, argues economist and consultant Federico Muñoz
According to Muñoz because of this non contemplated counter effect Argentina was denied the influx of approximately 19bn dollars in the last four quarters to June 2013.
"This means that limiting the exit of flight of dollars came practically to a draw with the shy dollars that were discouraged to access. But don't forget the energy bill and the tourists, which make the loss of reserves in the current circumstances irreversible. Plus the fact that chances of access to money markets for corporate purposes are already becoming more complicated", concluded Muñoz.