Brazil raises benchmark interest to 9% hoping to rein in inflation
Wednesday, August 28th 2013 - 21:56 UTC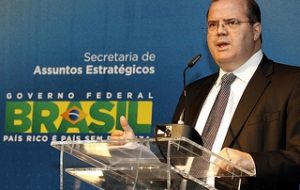 Brazil raised on Wednesday its Selic benchmark interest rate to 9% from 8.5% in a further attempt to rein in inflation. The central bank's monetary policy committee, the Copom, voted unanimously for a third straight half percentage point rate rise.
The Copom left the door open for more hikes by reiterating that the latest rise is part of an ongoing rate-adjustment process.
"The brief release from Copom said that "giving continuation to the adjustment of the benchmark interest rate, the Copom decided unanimously to raise the Selic rate to 9 percent a year, without bias.
"The committee considers that this decision will contribute to put inflation on a decline and assure that this trend will persist next year".
The following board members voted for this decision: President Alexandre Antonio Tombini, Aldo Luiz Mendes, Altamir Lopes, Anthero de Moraes Meirelles, Carlos Hamilton Vasconcelos Araujo, Luiz Awazu Pereira da Silva, Luiz Edson Feltrim and Sidnei Correa Marques."
A fall in the value of Brazilian Real has stoked inflation, currently 6.15%. The currency's fall has been blamed on an outflow of capital triggered by expectation that the US Fed will end its stimulus policy, leading to a stronger dollar.
The Real has lost 20% of its value against the dollar since the start of the year. This is in addition of the 30% the currency depreciated against the US dollar from May 2011 to May 2013 that is from 1.55 to 2.00 Reais.
Other emerging nations, including in Southeast Asia, have suffered similar currency problems.
Higher interest rates would help Brazil control inflation, and also bolster investors' confidence, the International Monetary Fund said in a report on Wednesday.
Fabio Akira, chief Brazil economist at JPMorgan, said further rate hikes were likely. He is forecasting a 50 basis points rise in October and another 25 points rise later in the year.
Last week, the Real fell to as low as 2.45 to the dollar, its lowest level since December 2008. The central bank reacted by announcing a currency intervention providing 60 billion dollars or cash and insurance to the foreign-exchange market by year end aimed at bolstering the Real.
The bank in a statement last Thursday said it will sell, on Mondays through Thursdays, 500 million dollars worth of currency swaps, derivative contracts designed to provide investors with insurance against a weaker Real. On Fridays, it will offer one billion dollars on the spot market through repurchase agreements.