Malvinas veteran named coach of one of Argentina's five most popular soccer teams
Friday, August 30th 2013 - 00:42 UTC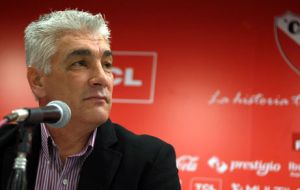 Malvinas veteran Omar de Felippe who was part of the defence ring organized by the invading Argentine military to defend occupied Port Stanley in 1982, has been named coach of Independiente, the 'red devils' one of the five most popular soccer teams in Argentina, which after a streak of losing games was condemned to a lower league.
"I'm no magician, I'm not promising magic results, rather I trust my commitment and work" said the incoming coach de Felippe, 51, who replaces Miguel Angel Brindisi, a great soccer player of his time, removed by the club's managing board.
Independiente with seven trophies is the maximum winner of the Latinamerican Libertadores Cup, (equivalent to the European clubs cup), but for the first time since its existence will not be playing in Argentina's premier league.
"Winning is the name of the game but before that, players must recover confidence, (the team is good), and the people must keep supporting them which is essential" said de Felippe, who comes from a small but very successful team, Quilmes.
"We have 42 games ahead of us, it's very tough and only the best three will make it to the premier league, and at some point everybody despairs".
On 7 April 1982 when de Felippo was a promising player in the junior teams of Huracán, he was called to the Army and sent to the Falklands by the invading Argentine military forces that had captured the Islands in 2 April.
After landing is East Falkland and having to walk 12 kilometres along an extremely windy and freezing cold path, his company finally reached occupied Stanley, which had been renamed Puerto Argentino. He was sent to the trenches surrounding the town and preparing for the British task force sent to recover the Falklands.
Luckily during the conflict de Felippe was not injured but suffered cold and lack of food as most of the Argentine conscripts sent to battle. However on one occasion he saved his life miraculously when his captain ordered him to abandon the trenches.
A few seconds later a bomb dropped and exploded exactly where de Felippo had been taking cover.