UK drops out of military intervention in Syria; PM Cameron loses vote in Parliament
Friday, August 30th 2013 - 00:19 UTC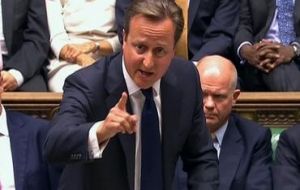 British MPs have rejected possible UK military action against Syrian President Bashar al-Assad's government to deter the use of chemical weapons. A government motion was defeated by 285 to 272, a majority of 13 votes.
PM David Cameron said "the government will act accordingly", effectively ruling out London's involvement in any US-led strikes against Damascus.
However the US said it would "continue to consult" with London, "one of our closest allies and friends", adding that "President Obama's decision-making will be guided by what is in the best interests of the United States" according to a White House statement.
President Obama "believes that there are core interests at stake for the United States and that countries who violate international norms regarding chemical weapons need to be held accountable".
Obama administration officials on Thursday told a group of US lawmakers in a conference call that "it is beyond a doubt that chemical weapons were used, and used intentionally by the Assad regime," said Eliot Engel, the senior Democratic member on the House Foreign Affairs Committee.
Mr Engel said the officials cited evidence including "intercepted communications from high-level Syrian officials".
They also said they had seen personnel being moved around Damascus that indicated "it was ready for something big like a chemical attack", he added.
After the vote in London, opposition Labour leader Ed Miliband said the result meant military action was "off the agenda", and added that MPs had reacted against the prime minister's "cavalier and reckless" leadership.
Thirty Conservative and nine Liberal Democrat MPs voted against the government motion.
British Defence Secretary Philip Hammond said that Britain would not take part in any military action against Syria after the government unexpectedly lost a vital parliamentary vote on the issue.
"I hoped we would carry the argument but we understand there is a deep well of suspicion about involvement in the Middle East," Hammond told BBC TV's Newsnight programme.
The United States, a key ally, would be disappointed that Britain "will not be involved," he added, but said: "I don't expect that the lack of British participation will stop any action".