Falklands' Argentina banned oil companies linked to YPF partner Chevron
Saturday, August 31st 2013 - 01:39 UTC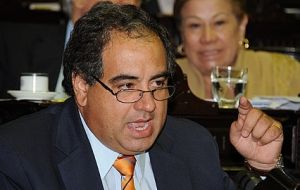 An Argentine lawmaker claims that the US oil corporation Chevron which is investing heavily in developing shale resources in Neuquen with YPF is a partner of Oil Spill Response Limited that is also involved with the oil companies operating in the South Atlantic in Argentine waters but licensed by the Falkland Islands government.
"Chevron Oil which signed a controversial agreement with YPF to develop the Vaca Muerta shale resources is an investor partner of Oil Spill Response Ltd, OSRL which is advising and servicing oil companies Noble Energy, Falkland Oil and Gas Ltd. (FOGL); Borders & Southern Petroleum; Desire Petroleum, Rockhopper Exploration and Argos Petroleum", said lawmaker Julio Martinez from the opposition Radical party and who represents the province of La Rioja.
Martinez added that the Argentine government is thus "systematically and reiteratedly" violating the Hydrocarbons Law 26.659 which in article 5 bans the Argentine State from establishing contracts with "physical or juridical persons, national or foreign, its comptrollers or shareholders that directly or indirectly develop hydrocarbon activities in the Argentine continental shelf"
The OSRL claim is also extensive to "PDVSA (Venezuela Petroleum), the Venezuela State oil company which also has commercial interests in Argentina".
Last but not least lawmaker Martinez claims that OSRL also has contracts with Chapman Freeborn, the air company contracted by the Argentine Executive Secretary Oscar Parrilli for some of Cristina Fernandez overseas trips, and which "also has a contract with the British Defence ministry for the air bridge UK/Falklands/Malvinas".
Although the Argentine Executive has a Tango 1 specially furbished for the president, fears of a possible seizure in some countries by hedge funds in litigation with Argentina, as has happened with other assets (ARA Libertad in Ghana), forces to contract independent charters.